Former boxing champ claims McGregor was KO'd in sparring

theScore
2017-07-17
(Provided by Fox Sports)
The Mayweather-McGregor World Tour is over for now, but folks still have a lot to say about the August 26 mega fight.
Rumour has it that misfortune befell the UFC lightweight champion in one of his sparring sessions, at least according to former WBO welterweight champion Jessie Vargas. In a chat with Villainfy Media, Vargas says that he heard through the grapevine that McGregor was knocked out by one of his training partners.
"He got knocked out in sparring already, man," Vargas said, according to Darragh Murphy of JOE.co.uk.
Vargas wouldn't say specify his sources, only adding, "The boxing world is small, it's a small circle."
McGregor has regularly been sharing photos of his training and so far his training partners have been saying all the right things in regards to the MMA superstar's boxing skills.
Related - Sparring partner: McGregor 'lifted me off my feet with a right uppercut'
Copyright © 2017 Score Media Ventures Inc. All rights reserved. Certain content reproduced under license.
Related slideshow: Build up to Mayweather vs. McGregor (provided by photo services)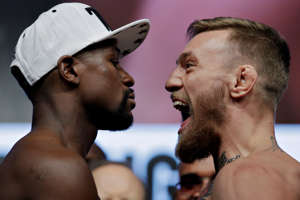 In Photos: The build-up towards Mayweather vs. McGregor