Will the Edmonton Oilers get another chance at Griffin Reinhart? Stranger things have happened

Edmonton Journal
2017-07-17
When it comes to a trade going wrong, pretty much everything that could go wrong did go wrong with the Edmonton Oilers' acquisition of Griffin Reinhart, but there's a chance that if the Oilers still greatly value Reinhart, he could end up on the Oilers blueline. More on that scenario in a moment.
The news of the moment is that Reinhart, 23, just signed a two-year deal with Vegas, one that pays him $800,000 per. It's not the kind of bonus laden contract that could cause trouble for Edmonton, a team that will almost certainly be close to the cap this year once the final cheques are written.
I saw Reinhart play a handful of times last year, including his one playoff game for the Oilers, and it looks to me like he's ready to take the step and make it as a bottom-pairing NHL d-man. He's not any kind of a force as an NHL player, but he's got good size and checking technique and his hockey IQ is above average-to-good.
He's learning to assert himself more both with and without the puck.
He's an adequate puck mover. He skates well enough to hang in there during an NHL game, at least if he's not facing the toughest of competition.
Also see: Best lines in NHL history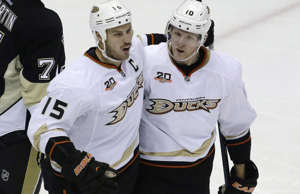 Now that his salary matches up with his level of ability, and now that he's put in the majority of three seasons at the American Hockey League level working on his game, my bet is he'll stick with some NHL team as a bottom-pair option.
RELATED:  Sharp-eyed Bruce McCurdy on where will Reinhart play this year
But I'm not certain that team will be Vegas. A number of factors could keep him off the Vegas roster:
If Reinhart is put on waivers, my bet is some other team will grab him before the Oilers get a chance but you never know.
Of course, the Oilers evidently valued Reinhart immensely at one point, enough to pay a hefty price in draft picks for him. Would Oilers GM Peter Chiarelli pay yet another lower draft pick to jump head of other teams and reacquire Reinhart?
Usually organizations don't return to players that have been sent packing, but Reinhart's leaving wasn't the Oilers growing tired of him, it was forced by the expansion process.
Also see: 10 biggest NHL contract disappointments (Provided by Rantsports)
Given how massively Chiarelli's first bet on Reinhart misfired it would nonetheless take an enormous amount of self-confidence and faith in the player to bring him back.
At left defence the Oilers still have Klefbom, Sekera (out until November/December) and Nurse penned into the line-up, so the only way I can see Reinhart coming back is if one or two of Klefbom or Nurse were added to the injury list early this year, and the Oilers were desperate for a fix at left defence. Stranger things have happened.
STAPLES: Shots fired: Ex-Oilers blasts analytics bloggers for undervaluing intimidation factor