With Game 4 win Penguins turn conference final into war of attrition

Sportsnet
2017-05-20
© image image OTTAWA – There is life still in these Pittsburgh Penguins.
As for the state of the Eastern Conference Final? Well, we are down to a best-of-three that basically amounts to a war of attrition.
Weeks of hockey at its highest level is exacting a toll on the Penguins and Ottawa Senators. Pittsburgh lost another defenceman to injury while winning Friday's game 3-2, and the Senators saw a slew of players parade back and forth from the dressing room.
The prize is great – the chance to play for the Stanley Cup – but finding two more victories will be difficult with no rest in sight.
Needing a victory in Game 4, Penguins coach Mike Sullivan played a big card by starting Matt Murray in place of Marc-Andre Fleury – it was Fleury who backstopped Pittsburgh to its first nine victories this spring – and the move paid off.
Ottawa brought good pressure in the opening minutes, but Murray stopped Mike Hoffman from the high slot and Viktor Stalberg on a wraparound attempt. He then kicked out his right pad while already in the splits to rob Derick Brassard.

That allowed the Penguins to find their push and Olli Maatta opened the scoring 46 seconds before the intermission. He crept in off the point and beat Craig Anderson with a stoppable shot.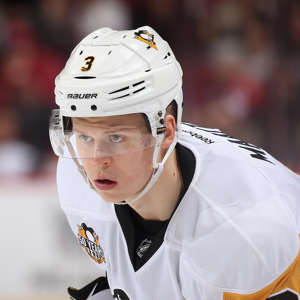 © Christian Petersen Olli Maatta The Senators weren't too crisp.

Three power plays came and went with only three shots on goal, making the Canadian Tire Centre crowd grow restless, before Sidney Crosby cashed in while Pittsburgh owned a man advantage.
The Penguins captain went down on one knee at the side of Anderson's goal, allowing him to corral a Jake Guentzel pass that bounced over his stick but hit his left skate, before making it 2-0.
Brian Dumoulin got credit for the third Penguins goal after his pass banked in off Dion Phaneuf's skate – Evgeni Malkin pointed that out to the Sens defenceman – but Clarke MacArthur gave Ottawa some hope by directing home a magical Bobby Ryan pass at 18:22 of the second period.
It was a physical, grinding game.

Chad Ruhwedel had his night ended on a hit from Ryan while five different Ottawa players made in-game trips to the dressing room. Brassard, Ryan, Mark Stone, Cody Ceci and Erik Karlsson all returned.
The Senators refused to go quietly, with Tom Pyatt planting a screen in front of Murray and having Karlsson's point shot bank in off him at 14:59 to get within one. They've tied three games during this playoff run with 6-on-5 goals, but couldn't find another one after Anderson left for the bench.
Series tied.
On we go back to Pittsburgh for Game 5 on Sunday afternoon.