Every single highway linking the Lower Mainland to the rest of B.C. is closed

cbc.ca
2017-02-10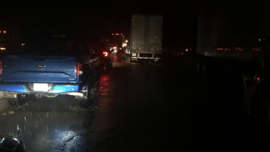 A 24-hour period of freezing rain across the South Coast has culminated with every single B.C. highway leading into the Lower Mainland being closed. 

As of 12:30 a.m. PT, here's the status of each major highway:
- The Coquihalla (Highway 5) was closed in both directions from Hope to Merritt, after a short period in the late afternoon where it was reopened. Drive BC says the estimated time of opening southbound from Merritt is 6 a.m. on Friday. An update for cars heading northward from Hope will happen at 2:00 a.m.
- Highway 3 is closed in both directions between Hope and Manning Park Lodge because of an Avalanche Hazard. An update won't be given until 6 a.m. on Friday, and there is no estimated time of reopening.
- Highway 1 is closed from Yale to the Highway 12 junction at Lytton because of a high avalanche hazard. There is no estimated time of it reopening. A further update is expected at 6 a.m. on Friday.
- Highway 99 was open for much of the Thursday, but it too is now closed in both directions west of Lillooet because of an avalanche hazard. No update time has been provided.
Highway 5 is open between Merritt and Kamloops, but travel is not recommended unless absolutely necessary. 
Highway 3 is also closed at the Alberta border because of freezing rain, and there is no estimated time of opening. 
With cross-state routes in Washington State also closed, it means anyone attempting to reach the Interior of B.C. from the Lower Mainland, or vice-versa, will have to do so by plane.
'It's definitely frustrating'
It also has effectively stranded a number of people on the Coquihalla, who are expecting they'll be stuck overnight.
 "The road is literally a sheet of ice. To get out of the car and walk is super treacherous," said Jesse Whiller, who has been stuck on the Coquihalla, 25 kilometres south of Merritt, for hours.
"We can see at least three kilometres in the distance and it's just a line of cars not moving. You can't see brake lights any more, all the cars are off. I think people are planning on spending the night here.
"We have enough gas to get through the night, but there's a lot of cars here and maybe not everyone is in that situation." 
Heather Beaty, who is stuck 30 kilometres south of Merritt in a car with three friends, was making her monthly trip to Kamloops to play with the city orchestra. After a few hours of slow driving northbound, traffic eventually ground to a complete halt. 
"The road conditions are quite treacherous. I've never seen them this way. It's literally a river over ice," she said. 
She wondered why the highway was reopened at approximately 4 p.m., giving people the impression it was safe to drive, only to be closed again when it became obvious that wasn't the case.
"You'd think we'd have a better protocol," she said.
"We are quite frustrated they would open the highway and tell us we could go, and then close it within an hour after doing that, letting thousands of people in."