Farmer's Almanac predicts white Christmas, warmer-than-usual winter for Toronto

cbc.ca
2017-10-26
If you're (probably the only person) waiting on cold winter weather to slide in to Toronto, you may be in for a wait. 
Cooler temperatures are expected to make a slow entrance, according the Old Farmer's Almanac popular weather forecast.
And when it does arrive, its going to be "ever so slightly not as cold as usual," said the almanac's managing editor Jack Burnett, avoiding the word "warmer."
Because everyone — even the New Hampshire native — knows a Toronto winter isn't anywhere near warm.
"Not so cold as days of old, but still enough to wear your muff," is Burnett's preferred description.
"We're looking at it to be about a degree warmer than normal on average throughout the winter," he said Tuesday.
The almanac forecasts the cold snaps of Toronto's winter will happen mid-November, in the beginning and end of December, beginning and end of January, and the beginning and middle of February. 
"It's kinda scattered, ten days on, ten days off," Burnett said, adding that readers will be delighted to know they're predicting a white Christmas.
"What I won't predict," Burnett said, "is how much your kids will help you clear the snow."
Early end to winter
He also predicts an early end to winter with "no heavy-duty cold lasting into March."
This year's Old Farmer's Almanac says their weather predictions are 80 per cent accurate.
"Lots of people think we sit around the table with a herd of woolly bear caterpillars and watch how they interact but its actually a lot more complicated than that," Burnett said. 
Although the almanac uses a centuries-old formula originally designed by its founder Robert B. Thomas in 1792, that has since been converted into an algorithm that also uses "weather data as far back as we could find," Burnett explained. 
The editor, who joked that he is sometimes called the barely-managing editor, described it as the perfect marriage between old and new. 
"If I step outside my office — which is wired to the gills with high speed internet and so on — I could go into the library and pull a 1795 almanac right off the shelf."
It's one of the reasons the Old Farmer's Almanac sees annual sales of about 3.5 million in the United States and anywhere from four to five hundred thousand in Canada, Burnett said.
Photos: Canadians share their fall photos (Courtesy of Weather Network)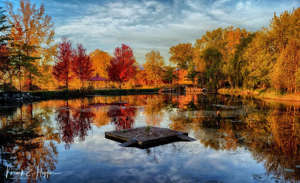 Canadians share their best fall photos