Hurricane Maria leaving Caribbean, headed north far from Florida coast

Miami Herald
2017-09-23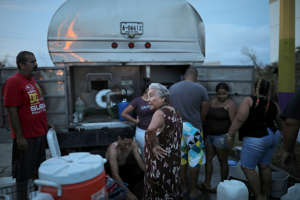 Slideshow by photo services
Hurricane Maria finally began departing the Caribbean Friday afternoon, leaving a wake of destruction that left at least 30 dead and crippled Puerto Rico.
In their 5 p.m. advisory, National Hurricane Center forecasters said Maria was passing offshore east of the southeastern Bahamas with sustained winds remaining at 125 mph. The storm was located about 395 miles east-southeast of Nassau.
Hurricane warnings were canceled across the Bahamas and the Turks and Caicos, which spent much of the day being battered by the storm.
In the next few days, Maria is expected to encounter strong wind shear that should gradually weaken it to a Category 2 storm in two days and barely a Category1 storm in five days. Maria was moving toward the north-northwest, but by early Sunday should begin to turn northward when it passes between a high pressure ridge and trough to the west. Forecasters warn the storm may wiggle a bit from its track, but should generally continue north well off the coast of Florida and the U.S. mainland.
By mid week, the storm is expected to move between the east coast and Bermuda. A mainland strike is not likely, but forecasters warned that the storm's path is less certain after five days making it too soon to rule out any impacts.
Hurricane-force winds extend 60 miles from the storm's center. Tropical storm winds reach 160 miles.
Because Maria dumped so much rain over Puerto Rico, forecasters warned flooding could continue into next week. Thunderstorms and showers will likely continue through Tuesday, the National Weather Service said, warning people not to try to cross low-lying roads.
On Wednesday, Maria slammed the island just over a week after Irma passed off the north coast. The storm knocked out power to the entire island and caused widespread flooding. The east end of the island remained under a flash flood warning Friday morning, expected to last until 8 p.m. Flood warnings covered the whole island.
Follow Jenny Staletovich on Twitter @jenstaletovich