U.S. storm fallout: Airline schedules recovering on Friday

USA TODAY
2017-02-10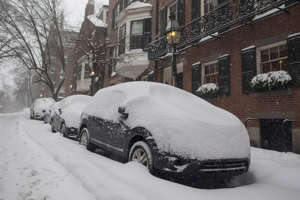 © Scott Eisen/Getty Images Snow covered cars in the Beacon Hill neighborhood as a winter storm bears down on Feb. 9, 2017 in Boston.

U.S. airlines appear to be getting back on track Friday after a fast-developing snowstorm forced thousands of cancellations on Thursday. 

Nationwide, about 325 flights were canceled as of 10:20 a.m. ET on Friday, according to flight-tracking service FlightAware. That's a relatively small number on a national basis and marked a dramatic improvement from Thursday's tally of 3,704 cancellations. 
FLIGHT TRACKER: Is your flight on time?
Unsurprisingly, Friday's cancellations were most widespread at airports in the Northeast that were hit hard from Thursday's weather.  
Thursday's flight woes came as a major winter storm walloped parts of the Northeast, dropping heavy snow across an area stretching from eastern Pennsylvania and New Jersey north into New York state and southern New England. 
In photos: Images of New York in the storm
The airports serving Boston, New York suffered some of the greatest flight disruptions. Nearly 70% of the entire day's schedule was grounded at both Boston Logan and New York LaGuardia. About half the day's flights were scrapped at Newark Liberty and New York JFK. 
Other airports in the region – including Hartford, Providence and Long Island's MacArthur Airport – also saw large portions of their daily flight schedules wiped out by the storm.

Problems were widespread, though less severe -- relatively speaking -- at other airports. Philadelphia and Washington Reagan National fared better than airports to the north, but still saw cancellations ground about one out of every five of flights Thursday. Other airports – including Portland, Maine; Manchester, N.H.; and Westchester County, N.Y. – all suffered cancellation rates of great than 20%, according to FlightAware.
Delays and cancellations resulting from the Northeast storm rippled out even farther, affecting across the U.S. Orlando counted nearly 150 cancellations on Thursday – largely the fallout from the snowy weather in the North. While most of those came on flights to places like New York and Boston, the ripple effect of such disruptions can snare fliers headed to other destinations. An Orlando-to-Houston flight, for example, could become delayed or canceled if the plane or crew scheduled to operate that flight was originally scheduled to come from New York or Boston. 
For fliers dealing with itineraries disrupted by the storm, flexible rebooking policies remained in effect at most big airlines serving the region -- though the fine print varied significantly from carrier to carrier. Customers affected by the storm were advised to check the airline's website for information about flight changes and weather waviers.
TWITTER: You can follow Today in the Sky editor Ben Mutzabaugh at twitter.com/TodayInTheSky