Behind the scenes with Batman's new Mercedes

AOL Cars UK
06/12/2017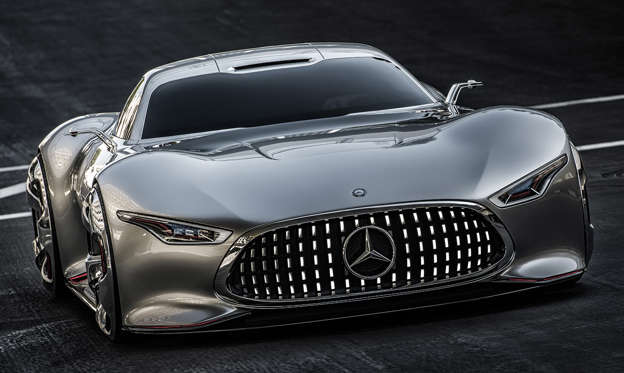 Mercedes-Benz AMG Vision Gran Turismo
© Mercedes-Benz; Newspress
Everybody's familiar with Batman's favourite form of transport – the Batmobile. It's gone through many iterations during the hero's decades of service, and the most recent versions have been nothing short of incredible.
But when Batman removes the mask and becomes reclusive billionaire Bruce Wayne (played most recently by Ben Affleck), he still needs stylish transport – and for the most recent Justice League movie, the duty of providing that fell to Mercedes.
The film's producers originally procured an E-Class Convertible for Diana Prince – aka Wonderwoman, played by Gal Gadot, but something rather more spectacular was needed for Bruce Wayne. In the film, the car in question is a one-off version of Mercedes' Vision Gran Turismo.
"To put Bruce Wayne behind the wheel of an experimental prototype vehicle like the Vision Gran Turismo... it's a great fit," said Charles Roven, Justice League producer.

Originally conceived as a 'virtual concept' for the Gran Turismo video game franchise, producers asked Mercedes to bring the car into the real world specially for the film, where it appears when Batman gives Barry Allen, aka The Flash (played by Ezra Miller) a ride.
© Mercedes-Benz; Newspress Mercedes-Benz AMG Vision Gran Turismo The stunning gullwing supercar had to be given a full interior for the movie, which the original concept never had. It also had to be enlarged by around 10 per cent, in order to make room for Affleck's 6'4 frame.
Gordon Wagner, chief design officer for Mercedes parent company Daimler, said: "As a designer you have to create fantasy, so we often get inspired by the film industry. I am excited that this time, the film industry was inspired by us."
Follow us on Facebook and on Twitter
____________________________________________________________________________________________________
Related: 20 Batmobiles that have evolved with Batman (Autofile)