McLaren's New Spider Convertible Supercar Is A Sight To Behold

Esquire (UK)
5 days ago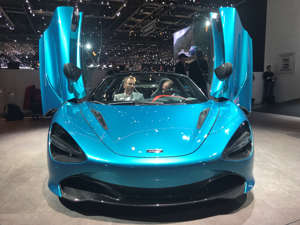 © Getty Convertible supercars have traditionally been about compromise. If you wanted the option of taking down the top to feel the sun and see all that Arizona sky, then you'd be paying the price on speed and feel compared with its coupé equivalent. All the extra kit means extra weight and that's like kryptonite to a car's more extreme capabilities. It's just physics. 
© Amy Shore - Esquire This droptop doesn't compromise on speed Except McLaren, a company more focused on weight reduction than a model agency, doesn't seem to have accepted this status quo for its 720S Spider. Turning a coupé into a convertible always involves more than an industrial-sized tin opener, but this process required developing a made-to-measure carbon fibre monocage, and a carbon-panelled, electrically folding roof for which three global patents have been registered. 
Overall it's just 49kg - the equivalent of a well-prepared couple's holiday luggage - heavier than its hard-top brother, making it at 1,332kg the lightest Spider in its class. And on the road, certainly in a state with some of America's emptiest roads, you'd be hard-pressed to notice any difference.
© Amy Shore - Esquire The McLaren 720S Spider photographed for Esquire near Phoenix, Arizona, February 2019. Its 4.0-litre twin-turbo V8 engine gives it 710bhp With the roof up, it records the same 0–62 time of 2.9 seconds, and still hits 212mph. With the roof down, you could top out at 202mph, just don't expect your hair to recover. That astonishing speed and glued-to-the-ground handling is even more visceral when the dust and wind are blowing around and above you. 
Work has been done on ensuring there is more sky to see when the roof is down too, by improving sight lines ahead and behind. An electrochromic glass roof that can be switched from tinted to transparent is a £7.5k extra.
Gallery: How the world uses cars differently & why (Auto Car)
McLaren expects 50 per cent of all its cars sold in 2019 to be Spiders, so you can see why it's working hard on blurring the gap. Even the roof, which slides away neatly, efficiently and with minimal whirr and fuss in just 11 seconds, is the quickest in its class. These guys really aren't keen on compromise.
MSN UK are Empowering Happiness for mental health awareness month. Find out more about our campaign and the charities working to stop people falling into crisis here.