Volkswagen Group to launch 80 electrified models by 2025

Auto Express
11/09/2017
Volkswagen has announced it will offer at least one electrified variant of every model across all brands and markets by 2030.
The group, which includes brands such as Audi, SEAT, Porsche and Skoda, also promises to bring 80 new electric or hybrid models to market by 2025.
The announcement, dubbed 'Roadmap E' was made by Volkswagen Group chairman Matthias Mueller at the media opening of its hall at the Frankfurt Motor Show.
Related: Frankfurt Motor Show plugs into electric vehicles (Bloomberg)
Mueller confirmed there would be at least one electrified variant in each of the 300-plus models it makes, with 50 pure-electric vehicles and 30 plug-in hybrids added to the range by 2025.
According to Mueller, the group will require more than 150 gigawatt hours of battery capacity annually by 2025 for its electric vehicle fleet – the equivalent of  four 'gigafactories'.
The company has put aside €50bn to meet this demand, with long-term partnerships with China, Europe and North America set in motion. In addition, the company is readying for the next generation of 'solid state' batteries that promise over 600 miles of range.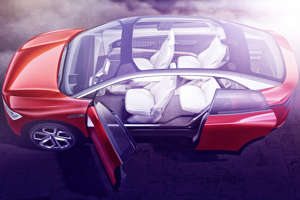 © VW; Newspress Volkswagen I.D. CROZZ "We have got the message and we will deliver" Mueller said, referring to the diesel emissions scandal and events that followed. "We are setting the scene for a final breakthrough in e-mobility.
Such a breakthrough won't be achieved by self-proclaimed 'pioneers', it will be achieved by a company selling over 10 million vehicles annually".
The intention is to make the Volkswagen Group the leader in electric mobility, with expectations of selling up to three million pure electric vehicles globally each year by 2025.