10 best exhausts of the Geneva motor show

Evo
09/03/2017
© Evo Lamborghini Huracan Perfomante There is something unnatural about a motor show, especially when it comes to showing off new performance cars. The environment of an exhibition hall means they are displayed in almost the exact opposite way to their intended use: inside, dormant, static and, worst of all, silent.
With engines off we have to make do with guessing how each car might sound, and as useful as knowing the engine's specification is, your imagination is always helped by sneaking a glimpse of where the loudest noises will emanate from: the exhaust tips.
Whether they're elaborate, purely functional or just plain huge, exhaust pipes become an essential part of trying to understand a car's character in an otherwise anodyne show environment. So to help you decide what might be your favourite car at this year's Geneva motor show, we've put together a collection of some of the best exhausts we spotted on our travels.
Click through to the next page to read the top ten...
Lamborghini Huracan Perfomante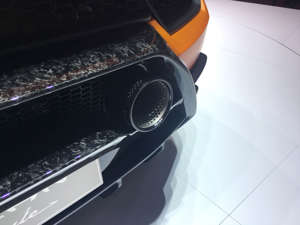 © Evo Lamborghini Huracan Perfomante Not only can you imagine a barrage of V10 gases screaming out of the Performante's high-mounted tail pipes but, because it's a Lamborghini, you can almost see flames spitting out of the back.
Alpine A110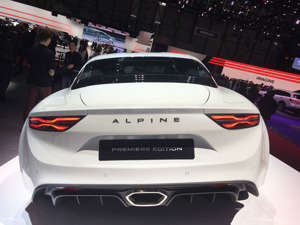 © Evo Alpine A110 The new Alpine may be small and delicate, but its exhaust looks identical to Lamborghini's big, old Murcielago. Still though, we doubt it will make quite as thunderous a noise as the V12-powered supercar. 
Honda Civic Type R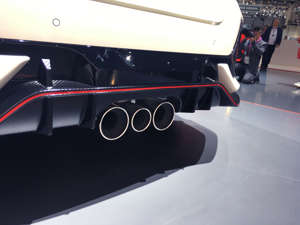 © Evo Honda Civic Type R We all hope that the new Type R drives much better than the way it looks, but if there's one thing we can appreciate about the hot new Civic it's the trio of exhaust pipes, something rendered forever cool thanks to the Ferrari F40.
McLaren 720S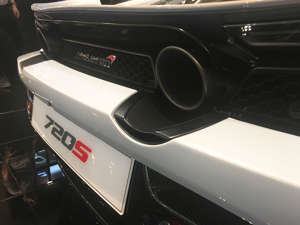 © Evo McLaren 720S Just like the Performante, the new McLaren's exhausts are mounted high-up suggesting there isn't a lot of pipework and silencers between the turbos and the tail pipes to quell the noise. 
Infiniti Project Black S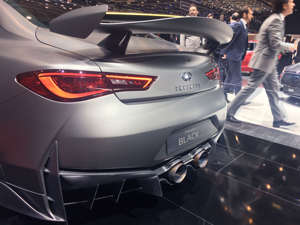 © Evo Infiniti Project Black S Encased in the concept's delicate carbon-fibre diffuser these two massive exhausts give the impression the modified Q60 would much louder than the modern F1 car it takes its inspiration from.
Ford GT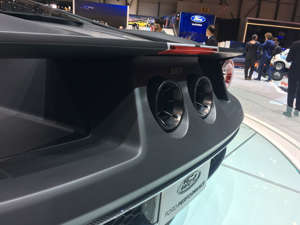 © Evo Ford GT The position alone of the GT's exhausts make them cool; that's without the internal veins that make it look like gases might fire out the back with enough force to create their own thrust.
Pagani Huayra Roadster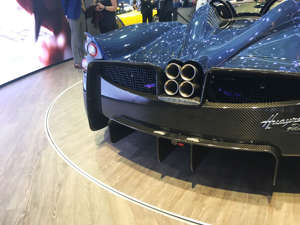 © Evo Pagani Huayra Roadster It simply wouldn't be right if a Pagani didn't have the signature double-stacked set of four tail pipes.
Gemballa Avalanche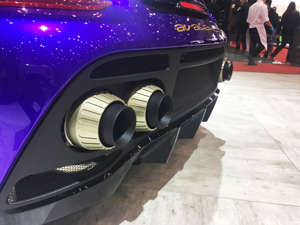 © Evo Gemballa Avalanche We suspect most of what you see around the Avalanche's exhaust tips is utterly superfluous, but they also look like they've been lifted straight from Thunderbird 3 and that's a good enough reason for them to be there.
Aston Martin Vantage AMR Pro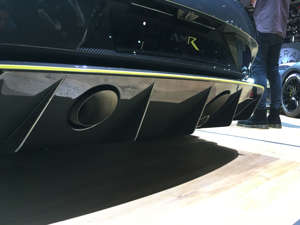 © Evo Aston Martin Vantage AMR Pro Cut flush with the car's diffuser, the tips on Aston's new track car almost look as though they've been hidden, but don't worry - we spotted them.
Monteverdi Hai 450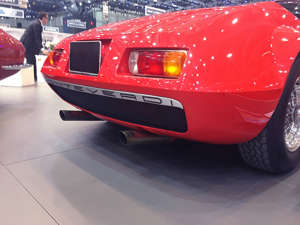 © Evo Monteverdi Hai 450 The Hai 450 has, seemingly, been designed to mess with your mind. It looks Italian but it's actually Swiss. And those long elegant exhaust pipes look as though they were designed purely to pump out the sweet, busy rumble of a carb-fed V12. Another trick of the mind: it's powered by an Amercian V8 instead.