New Bugatti Chiron-Sport set for Geneva Motor Show unveil

Auto Express
05/03/2018
Bugatti has something special in the works and there isn't long to wait before we find out exactly what it is. A teaser video released on the brand's Facebook page appears to hint at a new version of the Bugatti Chiron hypercar and Bugatti's own website has a new menu item added bearing the name 'Chiron-Sport'. 

The Bugatti Chiron teaser video gives very little away but you can see four separate round exhaust pipes that differ from large twin exhausts on the standard car. A brief shot of the engine cover also appears to show differences to the current Chiron.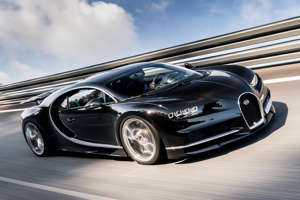 A blurry number is visible on the engine cover which appears to be different to the '1500' written on the standard car's motor. It may read '1800' and this could point to a significant power upgrade for the 16-Cylinder 1,500PS unit to 1,800PS (or 1,775bhp). 
© Auto Express 2017 Bugatti Chiron Such a power boost would be enough to theoretically push the hypercar close to the 300mph mark if tyres could be designed that were up to the job. The current Chiron's 1,479bhp can get it to 60mph in 2.4s and to 124mph in 6.5s. It's top speed is limited to 261mph, however, with Bugatti claiming that tyres have not been developed that could cope with the stresses of taking the 1,996kg car beyond that. 
Bugatti has also added a new menu item to the homepage of its website that reads 'Chiron-Sport'. Clicking the link produces a 404 error but it's reasonable to assume that information on the new Bugatti Chiron will appear here after the car is revealed. And that reveal is close.
The Volkswagen Group's pre-Geneva preview event is tonight so we may get a glimpse of the new Chiron-Sport there and failing that, we'd expect to see the car at the Bugatti press conference on the first Geneva Motor Show press day tomorrow.
Follow us on Facebook and on Twitter