1 in 5 Brits admit they would hit and run in a car park

Motoring Research
20/03/2019
Almost one in five British motorists would not leave their contact details if they dented another car when parking, according to a study by YourParkingSpace.co.uk.
Under the Road Traffic Act 1988, drivers have a duty to stop and to provide information if damage is caused to another vehicle or to someone else's property. In some cases, motorists must produce their insurance certificate and/or report the incident to the police.
Video: This car park is so packed that drivers have to push vehicles when they want to leave (Newsflare)
The driver of the mechanically propelled vehicle must stop and, if required to do so by any person having reasonable grounds for so requiring, give his name and address and also the name and address of the owner and the identification marks of the vehicle.
A motorist is guilty of an offence if they fail to comply with the legislation.
The research also found that one in ten motorists have actually dented another car when parking, and that a third of British motorists have witnessed a driver denting another vehicle.
Flouting motoring etiquette
Harrison Woods, YourParkingSpace managing director, said: "It would seem there are a significant number of motorists prepared to flout motoring etiquette by not leaving their contact details if they hit another car when parking and had not been spotted.
"Not only is this a motoring offence, it is also very inconvenient for the other motorist who, through no fault of their own, could have to pay to fix the damage to their vehicle."
Harrison added: "The UK's roads must be littered with dented cars given the results from our survey, meaning many millions of motorists need to practice their parking skills.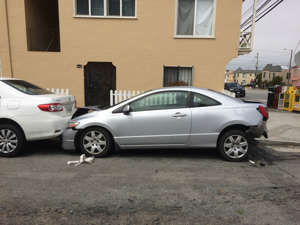 © Getty Hit and run in a car park "The good news is that the majority would intervene if they saw a car being dented, putting those people to shame who would not leave their contact details if they had not been seen."

The post 1 in 5 Brits admit they would hit and run in a car park appeared first on Motoring Research.
Gallery: Goodwood Festival of Speed 2018: car park treasures (Auto Car)