2020 Aston Martin Vantage Roadster teased

Car Buyer
07/10/2019
The forthcoming 2020 Aston Martin Vantage Roadster has been revealed in a series of official images released by the manufacturer. The latest convertible to join the Aston Martin line-up will be a direct rival for the McLaren 570S Spider and Porsche 911 Cabriolet when it arrives in showrooms in early 2020. Pricing has not yet been announced, but you can expect it to cost more than the coupe, which starts from £120,900.

The new Vantage Roadster will boast a folding fabric roof that features a new compact design. Aston Martin says it can be folded away behind the seats without the need for a tonneau cover. With the roof down, wind noise in the cabin is minimised by a glass wind deflector.
Aston Martin has not revealed any mechanical details for the Vantage Roadster but it's expected to use the same 503bhp 4.0-litre twin-turbocharged V8 petrol engine as the coupe, which is sourced from Mercedes-AMG.

© Provided by Dennis Publishing Limited

Power will be sent to the rear wheels via a standard eight-speed automatic gearbox. There's been no official word on whether the seven-speed manual gearbox from the coupe will be available too. A standard-fit electronic rear differential will aid traction, and steel brake discs will be standard along with optional carbon ceramic versions.
Related news: Dealers already selling 69-plate registrations as 'used cars' - customers can get a bargain (This Is Money)
No performance figures for the Vantage Roadster have been announced but the addition of strengthening material to compensate for the loss of the fixed metal roof, plus the weight of the electric folding roof mechanism itself, mean it's likely to take fractionally longer than the coupe's 0-62mph time of 3.7 seconds.
The interior of the Roadster will be near-identical to that found in the coupe, with a two-seat layout and the same dashboard.
Gallery: The most stylish supercars from around the world - including the Aston Martin One-77 (Photos)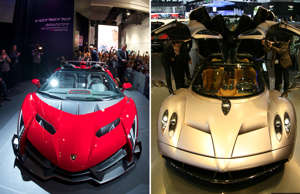 MSN UK is committed to Empowering the Planet and taking urgent action to protect our environment. We're supporting Friends of the Earth to help solve the climate crisis - please give generously here or find out more about our campaign here.