Bangernomics: How the MGF remains bargain of the century

AutoClassics.com
11/06/2018
LDV, Morris, Land Rover and Austin-Rover. These four brands have more in common than simply flying the British flag, rusting and clocking 60mph from a standstill in three days. They all contributed parts from that infamously large Leyland parts bin to craft the last of a dying breed: a true Morris Garages designed production car.
The humble and comically unloved MGF signalled the first standalone MG design in 32 years, emerging from the wilderness after many years in development hell.
Subjected to a make-believe universe of flaming brazens and frenzied screaming, amid tandems of management and disgruntled workers, MG Rover finally put the MGF into production for 1995; albeit six years after Mazda had taken the spotlight with the MX-5 in 1989. Ironic, as the MX-5 tried to capture all the essence of a British sportscar in the first place.
Despite the MGF's development programme commencing with the downfall of British Leylands' MGB in 1981, MG Rover appeared to fall asleep for a further 15 years before re-claiming the family brain cell.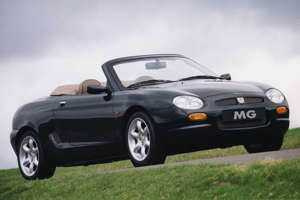 The MGF finally made its debut at the Geneva Motor Show in 1995 and, to the disbelief of bandwagon jumpers, everyone loved it. The press loved it, the public loved it, the district nurse and local hairdresser loved it. Even celebrity (for reasons unknown) Victoria Beckham had one!
So, why the hate over the last decade? In a world dominated by the JDM scene, it's easy to see why. The overwhelming aftermarket support in addition to its butch approach to handling dynamics has landed the MX-5 in the hall of fame. The MGF was a tame soul in comparison, preaching to the type of audience who wanted a sports car but also definitely did not want a sports car.
You need to remember, however, this was the nineties, when people were handing over the thick end of £20,000 for a VVC model. The Rover 800 Coupé cost more than a base Jaguar XJ-S, for gods' sake. Today, it's another story.
So why should you be interested? As a sceptic, I purchased one five years ago, and as a millennial believe it's criminally underrated. Hopefully you'll agree, as the bemoaned MG model may otherwise fall foul of time. The time to act is now!
Welshpool gets over taken with.f ers. pic.twitter.com/vxXfjtG0qs

— mgf register central (@Mgfregistercent) May 20, 2018
Why the MGF belongs in your garage
Featuring a mid-engine setup, with that infamous head gasket killing Rover K-Series beating deep within the svelte bodywork, the car oozes merit. Admittedly, the design is rather soft-core nineties at this point, but don't let that distract you, because no one knows what they are any more, and that's cool.
Before everyone repeatedly screams 'head gasket' in my ear like a petulant child, let me de-bunk this codswallop. The K-Series is actually a very capable power plant, so capable in fact that Lotus slam dunked it in the rather impeccable S1 Elise.
Then Caterham, who also thought it was all the rage, shoe horned it into the Super Seven. I assume none of you are going to argue with the King and Queen of weight reduction, are you?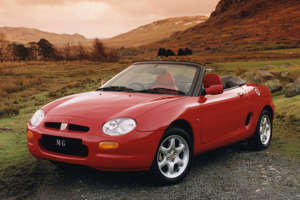 The K-Series is actually one of the lightest production engines per BHP ever designed, and as for the head-gasket issue – slap a Land Rover one on and you're golden, honestly.
Better still, thanks to its use in a plethora of motorsport categories from yesteryear, you can squeeze some fairly extraordinary power from its 1800cc, and safely, at that.
Strap on some individual throttle bodies (that'll make it sound like you've woken the Kraken) with a stand-alone ECU on top of a Stage 1 kit and you're staring down the barrel of 190bhp in a car that weighs 1060kg. That's 180bhp per tonne – which is what you get in a R33 Skyline GTR, a Mk6 Golf R, or even a Porsche 968 Club Sport!
In standard form, the little bulldog will reach 60mph in 6.9 seconds, and that's with the standard 143bhp in the VVC model. Therefore, you can silence those who claim it has no 'performance'. Blurting such a phrase is like asserting Brian Blessed has no voice.
So, it's fast
– but what else?
So, how about the rest of it? Well, unlike an MX-5 you can get the wee MG in a rather splendid array of colours and trims that help us forget the days of avocado bathrooms and rubber bumpers.
The JDM boys are stuck with their black and grey interiors, where-as MGF owners are treated to the colours you saw in your Dad's Mk2 Jag; tan, red, green, blue, black, grey or cream leather – most tastes are catered for, and that's before you look into whether Sir wants walnut festooning the dashboard, or whether Madam would rather some roughly sanded aluminium that has a propensity to graze your arms and take out your eyes.
So far this sounds rather brilliant doesn't it? Well, it's about to get even better. The levels of comfort offered in a typical sports car is usually akin to being dragged along the roads of pot-holed Britain on your face; potentially rather exciting but also slightly unpleasant in the long run.
© Autoclassics.com A bit like how being beaten up at school could be deemed exciting because you were made the centre of attention. Especially if it was by your teacher.
Not in the MGF, though! The designers rummaged through that Leyland parts skip and found the Hydro-elastic suspension setup used in the Allegro, amongst other British Leyland Olympians, provided supple comfort with direct control.
The beauty of this setup meant that, in Layman's terms, the car rode like a Rolls and handled like a Lotus. Combine that with a fantastic weight distribution and you have a pretty capable car.
Did I mention the MGF was one of the first production cars to get electric power-assisted steering? Second only to the Honda NSX, in fact. You know, that car that was developed with the greatest racing driver to have lived – a certain Ayerton Senna. The steering feedback is remains a complete joy, and the clichéd term go-kart like handling is very appropriate. 
How much will I need to buy one?
© Autoclassics.com At this point it's time to talk cost. Surely an exceedingly rare British sports car is going to set me back literally all of the Great British Pounds and cost the earth to run – you would be amusingly wrong.
I bought that gorgeous British Racing Green one for £900, and the private registration attached is worth £750. I realise that yes, although it's fun, it is rather tame compared to an MX-5 with a Limited Slip Diff, and yes a Honda S2000 is unashamedly more developed in every conceivable way, but you can't get either of them for a net cost of £250, can you?
Mine worked as the perfect entry point into interesting motoring. The first interesting car I could insure for below a million pounds at the age of 20. Now at the ripe old age of 25, I can confirm that I have been on thousands of miles worth of adventures in my little MG, and it has never let me down, even after I fitted a custom exhaust that makes it sound like a cross between an MGB and a puma on crack.
So jog on my friends! Browse through the classifieds and get yourself a bargain bucket sensation with an MG badge, all for less than a PlayStation 4 with an accompanying copy of Gran Turismo Sport.