Britain is in the grip of a drug-driving 'epidemic' as the number of prosecutions DOUBLE in a year to more than 10,000

Daily Mail
17/05/2019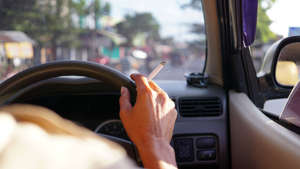 © Getty

Britain is in the grip of a drug-driving epidemic, with the number of prosecutions almost doubling in a year.

A record 10,232 cases went to court in England and Wales last year, according to official figures – with a conviction rate of almost 95 per cent.
This compares to 5,368 cases in 2017, 5,109 in 2016 and 1,465 in 2015, when drug driving first became a specific criminal offence, the Ministry of Justice figures show.
The dramatic increase in prosecutions is a sign that police have stepped up their campaign to tackle drug driving, despite a sharp fall in the number of dedicated traffic officers on the roads.
But David Jamieson, the West Midlands police and crime commissioner, told the Mail that many people are still 'blissfully unaware' of the true scale of the problem. 
He warned: 'People driving under the influence of drugs are a menace on our roads. They put their own and other people's lives at serious risk.
'The police know only too well about the worrying prevalence of drug driving and are doing everything in their power to bring perpetrators to justice.However, I fear most people will be blissfully unaware of the scale of the problem.
'The reality is drug driving is a hidden epidemic.'
Gallery: Insider insight: driving life of a Paramedic (What Car?)
His remarks come after police revealed before Christmas that they were catching a record number of drug drivers on Britain's roads, with an average of 37 motorists a day failing tests for banned substances.
Police said the number of accidents involving drug drivers also rose by more than half last summer during the football World Cup in Russia, compared to the previous year.
Some police forces are now thought to be increasingly targeting known criminals when they spot them driving, as they know there is a high chance they will be high on drugs.
The number of casualties in road accidents where the driver was under the influence of illegal or prescription drugs has doubled in five years from 921 in 2013 to 1,892 in 2017.
Of these 105 were fatal, up from 36 in 2013, according to latest figures from the Department for Transport.
Jack Cousens, from the AA, said drug driving had not yet become as socially unacceptable as drink driving, adding: 'With recreational drug use on the increase, and prosecutions doubling, drug-driving has all the hallmarks of a hidden epidemic.
'Getting behind the wheel while under the influence of drugs can be fatal, so we need to stamp it out.'
Motorists convicted of drug driving face the same penalty as drink drivers – a minimum of a year ban, unlimited fine and up to six months in prison, although few are locked up.
Chief Constable Anthony Bangham, the National Police Chiefs' Council Lead for Roads Policing, said: 'We will continue to take all action we can to deal with motorists who have a selfish disregard for their own safety and the safety of others by drug driving.
'Whilst we welcome the fact we are seeing rising prosecutions of this crime, we remain concerned at the number of those who feel this risk is worth taking.'
Mother hit cyclist while high on cocaine on the school run
A single mother was high on cocaine when she ploughed into a cyclist while driving her children home from school.
Emily Brown, 32, was more than six times the drug-drive limit when she hit Stuart Crowther at 25mph, fracturing his skull.
The lettings agent claimed she had taken the drug 48 hours earlier to cope with the sixth anniversary of the deaths of her premature twins.
Miss Brown also said she was distracted by her daughters, aged five and 13, trying to turn on the car radio. 
But test results following the crash in Oldham in October 2017 showed she may have taken the Class A drug 12 hours beforehand.
She had 332 milligrams of cocaine in 100 millilitres of blood – more than six times the limit of 50mg.
In July last year, Brown was jailed for a year at Manchester's Minshull Street Crown Court after admitting drug-driving and dangerous driving. Mr Crowther, 58, spent three weeks in hospital. 
MSN UK are Empowering Happiness for mental health awareness month. Find out more about our campaign and the charities working to stop people falling into crisis here.
Gallery: Slow cars you'll have a blast driving fast (Auto Car)