Car insurance prices drop for first time in three years amid whiplash clampdown - but not everyone is seeing lower premiums

Daily Mail
16/04/2018
The cost of annual car cover has seen the first drop in three years as insurers have been able to cut prices after a Government clampdown on whiplash claims, a new study suggests.
Motorists were paying £768 a year on average for annual cover in the first three months of this year, which is £13 less than the same period a year ago, according to research by comparison website Confused.com.
The website said the 'unexpected' 2 per cent decline – which is the first since 2015 - seemed to be a result of insurers lowering their prices in response to last month's changes to whiplash claims and the way compensation for people with serious long-term injuries is calculated.
Related: Things that make your car insurance cost more (Money Talks News)
Unveiling a new civil liability bill in March, the Minister of Justice said it would set a fixed amount of compensation for whiplash claims and require medical evidence before such claims can be settled.
It also confirmed plans to reverse last year's changes to the Ogden rate – which is used to calculate injury compensation – after hearing insurers' complaints that victims were being overcompensated.
Confused.com said insurers had probably lowered their prices in response to these policies, which still need to be passed in Parliament and won't be enforced until 2019.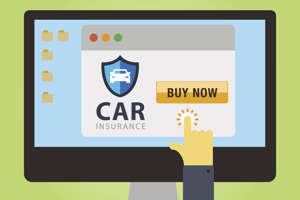 Despite the recent drop, car insurance prices on average are still £97 more expensive than two years ago and £261 higher than rock-bottom premiums seen 10 years ago, when they were £499 on average.
Men are still paying more than women - £95 more a year - although that difference is lower than £114 a year ago, according to the car cover index, which is based on data from almost six million customer quotes per quarter.
EU gender rules stop insurers from assess drivers based on their gender, but there are other risk factors which cause men to have higher premiums.
© Provided by Associated Newspapers Limited Car insurance: Despite the recent drop, car insurance prices on average are still £97 more expensive than two years ago and £261 higher than rock-bottom premiums in 2008 'For example, men tend to drive more expensive cars with larger engines, on average, so they make higher-value claims. They also tend to have significantly more motoring convictions than women,' Confused.com said.
Young people aged 17 saw the biggest price drop in insurance premiums as they pay £118 less than they did last year, but their cover is still one of the most expensive at a whopping £2,003 a year.
Some age-brackets are bucking the downward trend, such as 68-year olds, who have seen their premiums rise by £40, or 8 per cent, since last year. However, they are only paying £543 - significantly less than the national average.
As usual, the biggest premium is paid by male drivers aged between 17 and 20 - £2,348 on average, compared to the £1,699 paid by their female counterparts. 
The smallest premium is paid by female drivers aged between 61 and 65with a bill of just £363, which is less than half the national average.
Motorists in Scotland have also seen their cover rise in price over the past year, by an average of £32, or 6 per cent, bringing the total to £579.
So @Confused_com price index figures are in. Average premiums down but 59% of drivers auto renew despite those premiums up by £45av. @BBCEssex @BBCSuffolk

— Amanda Stretton (@amanda_stretton) April 16, 2018
Outside of Scotland, motorists living in Central and North Wales saw the second biggest price rise, with premiums up by £10, or 2 per cent, to £629. However, drivers living in Inner London are celebrating the biggest price reduction, making savings of £81, or a decline of 6 per cent, since last.
While drivers living within Inner London are enjoying these cost decreases, they are the only motorists who can expect to pay over £1,000 for car insurance, on average. 
Confused.com also carried out a survey of 2,000 drivers and found that loyalty did not pay as those who stayed with the same insurer and renewed their car insurance between January and March this year saw their premiums go up by £45 on average.  
'Our car insurance price index finally delivers some good news for drivers with the end of rising costs in sight. However, it's clear that many motorists are not seeing these savings reflected in their renewal letters,' said Louise O'Shea, chief executive at Confused.com.
Follow us on Facebook and on Twitter
____________________________________________________________________________________________________
Related: The cheapest new cars to insure (Motoring Research)