Driving the classics: Ford Racing Puma (1999-2001) review

CAR
29/09/2017
Driving the classics: Ford Racing Puma (1999-2001) review
© Bauer Media 2017
► Ford Racing Puma review
► A CAR occasional classic drive
► We test limited-edition Puma
Cast your mind back to the turn of the millennium. Ford was on a roll: the Focus was Britain's best-seller, rejuvenating the moribund mid-sized hatch market; the Fiesta was fizzy to drive, if flat to look at; and the Blue Oval pursued interesting niches such as the Puma small coupe.
And here we've a chance to reassess Peak Puma, the limited edition Ford Racing version. Join us on a retro road test review, as we travel down memory lane.
A quickie history: the Ford Racing Puma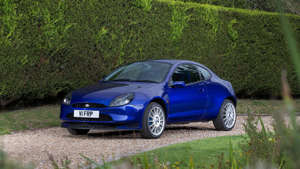 Ford showed a Puma RS concept car at the 1999 Geneva motor show, paving the way for a revved-up, go-faster version for road use. These were the days when performance sold and bosses sanctioned a limited run of 1000 cars for sale.
In the event, only 500 were made, all for the UK market and sold between 1999 and 2001. It was a specialist bit of kit, developed by Ford's UK engineering department and built by Tickford like earlier go-faster Capris had been.
It was a recipe that turned the small two-door into something of a modern classic. Limited numbers, engineering provenance and a likeable end result have guaranteed its place in the pantheon of Blue Oval greats.
Specs, prices and performance figures please…
Most notable change to the boggo Puma was the wider track, giving the two-door a ground-hugging stance and blistered wheelarches. The bespoke bodywork is crafted from aluminium, making it lighter yet wider and noticeably more menacing.
All came in the distinctive deep Imperial Blue paintwork, reserved for many modern fast Fords from Cosworth to Focus RS.
The original vision for a turbocharged engine never saw the light of day; the small production run and spiralling costs meant the 1.7-litre Yamaha engine was kept largely unchanged, an uprated cam, air intake and Janspeed exhaust liberating an extra 30bhp.
End result? Ford claimed 0-60mph in 7.8sec and performance feels brisk to this day, although it's some way slower than many warm hatchbacks, now typically turbocharged.
The precise, mechanical gear change makes it a pleasure to row up and down the beefed-up five-speed gearbox to keep the raspy four-pot on the boil, though. This is a pleasingly DIY, mechanical kind of performance car.
Ride, handling, brakes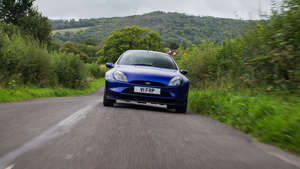 The RP rides on distinctive 17in alloy wheels wrapped Michelin 215/40 low-profile tyres. Uprated springs, dampers and suspension geometry mean the Puma has a stiffer, more focused ride than regular or garden Pumas, but it's at home on a typical twisting British back road like the one below.
Get used to the busy ride and the RP tracks flat and true on an A- or B-road; the steering, in particular, is a reminder of why a good hydraulic system is hard to beat for power assistance.
This remains a dirty, responsive small coupe - not a museum piece to lock up in a garage and look at.
Uprated Alcon brakes were fitted to the Racing Puma, with larger discs and stronger grabbers bringing strong, urgent deceleration; these race-bred rotors require careful servicing, however. 
Verdict
The Racing Puma deserves to be remembered as a modern Ford great. It's from that era of fast Fords which fizzed with feel, redolent of Richard Parry-Jones era magic: steering feel, tactile gearshifts and a handling delicacy at odds with its humdrum supermini underpinnings. 
It's amazing how much has changed in the two intervening decades, but a blast in Ford UK's heritage Racing Puma reminded us of the dying art of democratically priced sports cars.
At the time, its steep purchase price of £23,000 held it back (it was costlier than the more powerful, race-bred Subaru Imprezas of the day) but today they trade for very similar values.
A tidy example will set you back around £18k. Find a nice one, and you'll own a distinctive, sweet-driving small coupe of the sort that most manufacturers are now deserting in droves, in favour of modestly proportioned SUVs. Grab one while you can.
Specs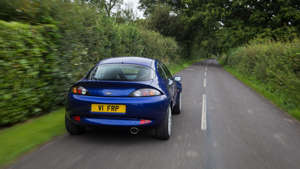 Price: £23,000
Engine: 1679cc four-cylinder, naturally aspirated, 152bhp
Transmission: Front-wheel drive, five-speed manual
Performance: 7.9sec, 126mph, 34mpg, 178g/km CO2
Weight: 1039kg/steel and aluminium
Dimensions: 3984/1837/1315mm