Excess all areas: behold the new 2019 Corvette ZR1

CAR
13/11/2017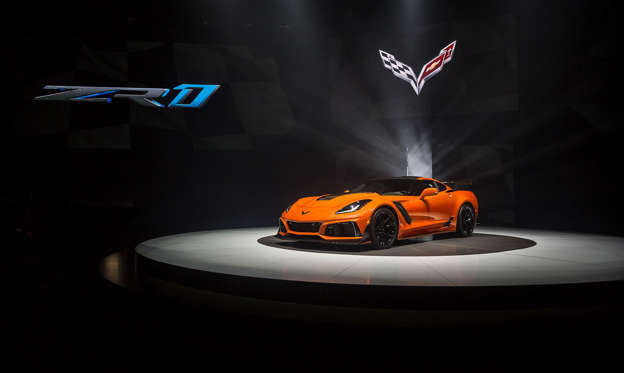 Unveiled at the Dubai motor show 2017
► New 2019 Corvette ZR1 
► Most powerful 'Vette yet

► 755bhp supercharged V8

You're looking at the fastest Corvette of all time You're looking at the most powerful 'Vette yet: the 2019 model year Corvette ZR1, complete with a supercar-bashing 755bhp of supercharged punch.
Looks like it'll eat Porsches whole for breakfast, and spit them out of its bespoilered rear, doesn't it?
Unveiled at the 2017 Dubai motor show (an appropriate venue if ever we saw one), the newcomer is the most powerful, fastest and techiest Corvette in history.
Related: 2019 Chevrolet Corvette ZR1 - 5 things to know (CNET)
Specs for the 2019 Corvette ZR1 please
Reading the outputs of the new American hero is a sobering affair:
Engine 6.2-litre LT5 supercharged V8
Maximum power 755bhp
Maximum torque 715lb ft
Top speed 'Over 210mph'
How fast is the new top 'Vette?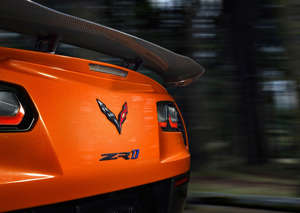 New 2019 ZR1: on sale in spring 2018 No official acceleration figures have been released yet, so the no-doubt scant 0-60mph claim is still unproven. Top speed is 'over 210mph' and buyers can log their runs on a Performance Data Recorder, should they wish to dice with the authorities on social media.
While the LT5-generation V8 is familiar (it was first used in the 2009 ZR1), its plumbing is significantly overhauled. All that grunt is provided by a supercharger whose innards are 52% larger in volume than before, and there's also GM's first dual-fuel-injection system, which employs primary direct injection and supplemental port injection.
For the first time ever, an automatic transmission is available on a ZR1; it's an eight-speed paddle-shift affair, although GM will still offer a seven-speed manual box too.
So the new ZR1's quick. But will it handle?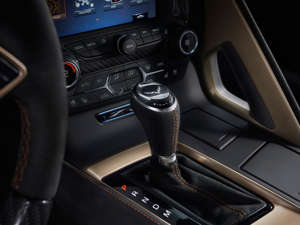 A first for a ZR1: new eight-speed automatic transmission offered alongside seven-speed manual GM is adamant the 2019 Corvette will relish corners as much as long, limitless straights. Note the optional, two-way adjustable High Wing, which is claimed to produce a chunky 431kg of downforce at speed. All the better to squash the ZR1 into the tarmac rather than spin you off into the undergrowth.
The beefier spoiler is part of a new ZTK Performance Package, which bundles in a carbonfibre front splitter, Michelin Pilot Sport Cup 2 tyres and Magnetic Ride Control adjustable damping.
'As the highest-performing Corvette ever, the ZR1's design supports its capability in every way,' said Kirk Bennion, exterior design manager. 'The new wings, for example, help generate more downforce without adding drag, enhancing road holding and top speed.'
The new 2019 ZR1 goes on sale in spring 2018. We look forward to driving it in the coming months...
Follow us on Facebook and on Twitter
______________________________________________________________________________________________
Related: First Look - 2019 Chevrolet Corvette ZR1 (AutoNXT)