How to drive in the snow and ice in the UK in automatic and manual cars

Evening Standard
23/01/2019
Snow and sleet has fallen across the country as a cold snap takes hold, causing temperatures to drop to -2 in parts.
The mercury struggled to get above freezing on Tuesday evening and the Met Office has been forced to issue a yellow weather warning.
Wednesday is expected to be the coldest day following Tuesday's snow flurries, and people have been warned to be aware of ice on roads, pavements and cycle paths.
Snow and ice are dangerous to anyone who plans on using the roads this weekend, so with that in mind we take a look at how you can ensure you drive safely in the snow and ice.
How to drive safely in the snow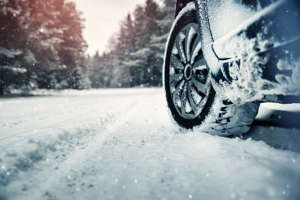 Car tires on winter road covered with snow. Vehicle on snowy way in the morning at snowfall Driving in the snow can be hazardous and IAM RoadSmart have urged motorists to avoid travelling in extreme weather.
If, however, you cannot avoid driving, they have also revealed how to stay safe when doing so in the snow.
Before drivers set off, they should ensure that snow is cleared from all windows, mirrors, roof and bonnet of their vehicle so it doesn't obscure their view
Start the car gently and if using a manual, start on a higher gear to prevent your wheels from spinning on the ice.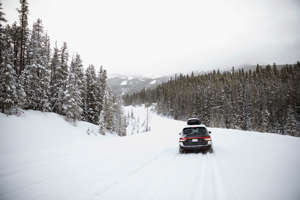 When driving, make sure you drive at an appropriate speed for the conditions; it can take 10 times longer to stop a car on snow or ice.
There should be a larger-than-normal distance between you and the driver ahead, to give you time to slow down safely.
The rules for driving an automatic car are the same - give space, drive slower and don't brake too harshly. Since you don't have that much control over what gear to use, drivers must take ever more care to control the power to the wheels to avoid skidding.
Some automatic cards allow drives to change up into a higher or lower gear.
IAM RoadSmart's head of driving advice Richard Gladman said: "Many of the problems associated with travel during snow could be avoided if people planned in advance.
"People routinely travel with only the minimum of safety equipment, without realising their journey could be a lot longer than expected.
"At the very least you should have a shovel, torch, blanket, jump leads and tow rope."
Gladman also advised that drivers make sure their phone is fully charged and that they have a roadside recovery number saved into it.
He added: "A bottle of water and a snack may also prove useful and don't set out without knowing the locations of petrol stations on your way."
Stay safe drivers.
Gallery: Revealed: What Car? Awards 2019 - the UK's best cars [What Car]