Japanese Aspark Owl electric hypercar goes from 0-60 in 1.9 seconds

AOL Cars UK
19/02/2018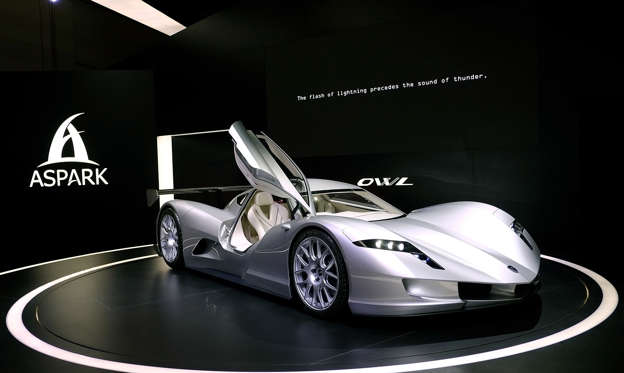 © Thomas Lohnes, Getty Images
When it comes to supercar performance records, we might be witnessing a new king.
Novice supercar manufacturer Aspark has released a video showing a production prototype of its Owl accelerating from 0-100km/h (0-62mph) in 1.92 seconds. For comparison, the fastest current production cars to that mark reach it in 2.3 seconds.
Unsurprisingly, the Owl is an electric vehicle. More surprising is the fact it only has 430hp, at least in the concept model Aspark revealed at the 2017 Frankfurt Motor Show. It uses in-wheel motors, one for each wheel, generating a combined total of 415Nm of torque, all available from a standstill. It's not yet known what battery technology the car will use.
Key to the Owl's stunning performance is the vehicle's weight. At only 850kg, it comes in lighter than FIAT 500. That's largely down to the extensive use of exotic materials in the car's production. The Owl uses a tubular space frame chassis with an entirely carbon fibre body. At 99cm high, it's lower than the original Ford GT40. 

That means it cuts such a low profile that even with just 430hp the Owl can hit 174mph.
However, the video clearly shows the vehicle using Hoosier racing slick tyres. This grippy rubber will certainly help with the explosive acceleration, particularly as the driver warms up the tyres first with a static burnout.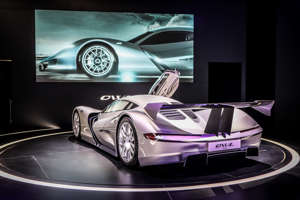 Given the very short nature of their chosen test track – which appears to be a car park behind a warehouse, with a cliff face at one end – it's little wonder the test driver wanted the best possible chance of hitting his speed target, and slowing down again afterwards.
Even so, 0-60mph in under two seconds is quite an achievement. Tesla has a similar performance target for its second generation Roadster, due to arrive in 2020.
Aspark will only make around 50 Owls when it enters production, and if you want one it'll cost you around £3m.
Follow us on Facebook and on Twitter
____________________________________________________________________________________________________
Related: 2017's fastest accelerating production cars (Motoring Research)