Lego creates James Bond Aston Martin DB5 model

Autocar
18/07/2018
Lego creates James Bond Aston Martin DB5 model
© Autocar
Lego is now selling a 1:8 scale model kit of James Bond's Aston Matin DB5 fom the 1964 movie Goldfinger.
The 1290-piece model comes with 007's original gadgets from the famous film, which stars Sean Connery as James Bond, and was the third installment in the Bond series.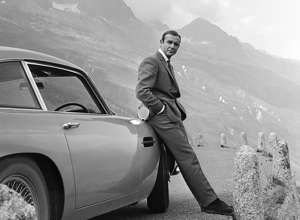 Finished in Silver Birch and featuring silver wire wheels like the actual car, the model is Lego's take on the iconic British GT. Bond's bespoke additions have been added, including an ejector seat, revolving number plates and front wing-mounted machine guns.
There's also a radar tracker, hidden telephone and wheel-mounted tyre scythes.
Under the bonnet, the model has a six-cylinder engine, mimicking the 4.0-litre straight six that powered the classic two-door performance model.
© Autocar Lego creates James Bond Aston Martin DB5 model

Measuring 10cm high and 34cm long, the car is described by Lego as a "challenging and rewarding build experience full of nostalgia", which can become a "perfect display piece". It's rated at Lego's 'expert' level, meaning it's among the most difficult models to build.
The kit goes on sale today and costs £129.99. It is available exclusively in Lego stores.
Lego produces several iconic cars for its model kits. Another recent example was the Caterham Seven 620R, which Autocar 'tested'.