Mazda trademarks MX-6, but will it use it?

motor1
05/12/2018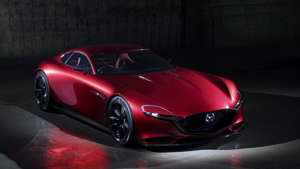 A special message from MSN:
While Christmas is a time of joy for most of us, that's not the case for the UK's most vulnerable children and young people. We've partnered with giving platform Benevity to raise funds for two charities - the NSPCC and The Children's Society – to try to help change that. You can help make a difference - please donate now.
We were quite disappointed to hear Mazda has no plans to bring a hot hatch or a new rotary-powered sports car to the market, but there might be a very good reason for that. Instead, if a recent patent filing is anything to go by, we could see an MX-badged coupe in the years to come.
It won't be rotary-powered or an EV:
The automaker filed a trademark application with the Japanese Patent Office for the Mazda MX-6 nameplate which can be used for "automobiles and parts and accessories thereof." The trademark was filled on October 16 this year and was brought to our attention by our colleagues at AutoGuide.com.
© Motor1.com UK Mazda RX-Vision concept While a single trademark application doesn't necessarily mean a new sports car is on the way, it's at least a hint such a move could happen. Mazda needs an answer to the new generation of sports cars from Japanese and European manufacturers, and an MX-6 revival could be just that.
One thing is for sure – it won't be a rotary-powered vehicle, as this was ruled out by the company through the voice of its new global boss, Akira Marumoto. He also confirmed Mazda has no plans for an electric sports car, so that's not an option, too.
What we would like to see and will keep our fingers crossed for is an MX-6-badged two-door sports car inspired by the RX-Vision Concept and powered by a traditional internal combustion engine. We know the firm remains committed to ICEs as it doesn't believe electric vehicles are a universal alternative.
Gallery: What are the best car colours for resale value? [Autocar]