Mercedes Concept GLB concept revealed practically production ready

motor1
15/04/2019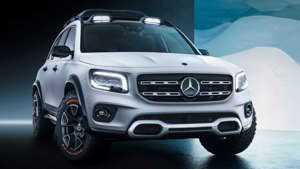 Debuts with rugged looks, AWD, room for 7
Following a few teasers, Mercedes-Benz has unveiled the Concept GLB at the 2019 Auto Shanghai, which previews a future production model with the same name and showcases "what SUV ideas on the company's compact car platform might be realised alongside the GLA as a sporty all-rounder." If we had to describe the study in just a few words, it's a more rugged take on the small crossover idea that gives us strong GLK (GLC predecessor) vibes with its robust appearance.
See prototypes of the production model: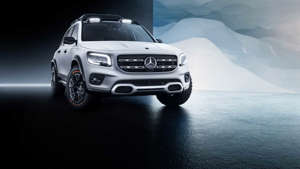 But, thankfully, we are here to share all the information about the GLB and let's talk about numbers first. The concept is 4.62 metres long and has a wheelbase of 2.82 m, which –
surprise!
– gives it enough room in the cabin for three rows of seats and up to seven passengers. Mercedes says the two single seats at the back are not there just for emergency trips, but can comfortably accommodate two medium-sized occupants. Other than that, the SUV is a typical member of the automaker's compact car family and this is especially visible at the front where the dashboard is virtually identical to the GLA – aside from the special leather treatment, which is something normal for a show car.
The exterior, however, is unlike anything we've seen from the company in recent years. The small SUV is muscular with clear contours and pronounced rugged appearance. This is highlighted by the protective cladding all around the body and the BF Goodrich off-road tyres wrapped around two-tone 17-inch alloys. The short overhangs and the additional LED lighting, combined with the black roof box, give the GLB adventure-ready look which, frankly, we quite like.
Under the hood is a 2.0-litre petrol engine with 224 bhp and 258 pound-feet of torque mated to an eight-speed dual-clutch transmission. The good news here is power is channelled to all four wheels via the company's 4Motion all-wheel-drive system with three selectable modes.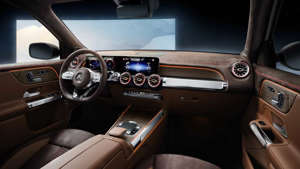 "We asked ourselves whether there is still space between the GLA and GLC in our successful SUV range," comments Britta Seeger, Member of the Board of Management of Daimler AG. "The Concept GLB is the answer to this question. With it we are demonstrating the creative ideas we have for this segment, too."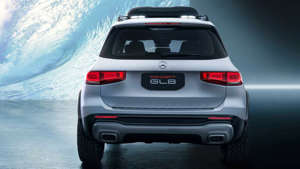 © Motor1.com Mercedes-Bens Concept GLB Mercedes is not revealing its plans for the GLB but logic tells us this concept is pretty close to the final production form of the SUV. Given that, we will probably see the prototype morph from a study to a mass produced product sometime next year.
Check out the press release section below for more information.
Gallery: Top luxury cars for £35,000 [Auto Car]