Mercedes GLB SUV on the way

Car Buyer
11/01/2018
Mercedes GLB SUV on the way
© Automedia
Mercedes is to further expand its SUV range with the GLB, a small, style-conscious SUV that will sit between the GLA and GLC in terms of size and price.
As our spy shots show, the new SUV will take inspiration from the larger G-Glass, with squared-off edges for a rough-and-tumble traditional off-roader look.
Set to arrive in 2019, the new car will bear resemblance to the G-Class but will be thoroughly modern underneath; Carbuyer understands that the new model will draw heavily on the design of the Ener-G-Force concept from 2012.
Related: Land Rover Discovery Sport – Is it top of the family SUV tree?
The GLB is likely to use the same new platform as the forthcoming Mercedes A-Class and GLA models. We expect long and short-wheelbase options, with a seven seat option on the cards, and Mercedes is set to make the most of the car's chunky looks by offering an optional off-road pack too.
Modern engines will feature, including the new 2.0-litre diesel which first featured in the latest E-Class. Power outputs of between 160 and 190bhp are expected, along with 4MATIC four-wheel drive and a nine-speed automatic gearbox.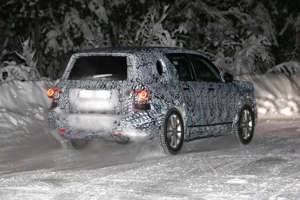 As is so often the case, a hotted-up AMG version will top the range. The Mercedes-AMG GLB 45 will be powered by a 2.0-litre petrol engine with over 400bhp, attached to a seven-speed automatic gearbox and 4MATIC four wheel drive.
No official details have been released, but as it will sit between the GLA and GLC SUVs, the GLB is likely to start at around £35,000, climbing to somewhere in the region of £50,000 for the top-spec AMG model.
Follow us on Facebook and on Twitter
____________________________________________________________________________________________________
Related: Seriously quick SUVs (Motoring Research)