Mercedes teases new Vision concept car

Car Buyer
09/08/2017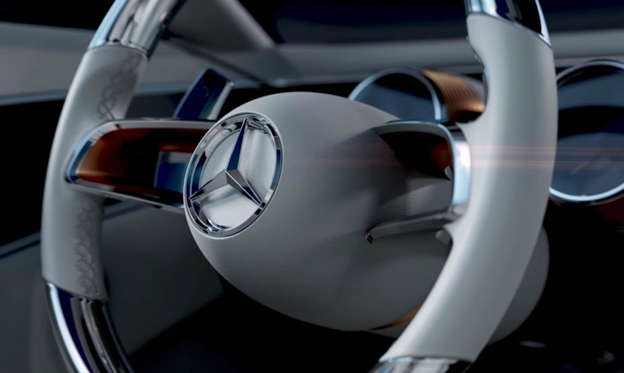 Mercedes has released a teaser video of a new Vision concept car, thought to be a convertible version of the 2016 Vision coupe.
While few details are discernable from the 40-second clip, close inspection reveals the steering wheel and dashboard dials are shared between the two cars – and the name is a bit of a giveaway, too.
The coupe version of the Vision – or the Vision Mercedes-Maybach 6, to give it its full name – is best considered a statement of luxurious intent for Mercedes' ultra-high-end Maybach sub-brand. 
Its name is drawn from its near six-metre length and it promises a "sensational luxury-class coupe" experience; the Maybach 6 coupe's power comes from an electric 740bhp setup with a 200-mile range.
While the air vents shown in this latest teaser video of the new Vision are absent from the Vision 6 coupe, their inclusion is of interest in itself: fitting such functional equipment implies Mercedes is keen to move the project on, indicating the Vision may be moving further away from the concept and edging closer to potential production.
Also worthy of note is that while the Vision 6 coupe features rear seats, these are seemingly absent from this latest concept – presumably to accommodate a folding roof.

Assuming a production car arrives as a result of these concepts, it'll likely compete with other premium luxury manufacturers, offering potential Rolls-Royce Wraith and Bentley Continental GT buyers a further option.
The Maybach brand was founded in 1909 in Germany and, following acquisition, was used by Mercedes to launch the high-end Maybach 57 and 62 large saloons.
Sales of these dried up following the 2008 financial crisis and although the Mercedes-Maybach S600 sees the Maybach name live on, that car is more of a top-spec S-Class than a standalone model.
The next Vision concept – depending on its reception – could mark another rung on the ladder of Maybach's continued re-emergence as a unique brand. It's expected to debut at the Pebble Beach Concours d'Elegance later in August.