More than 10 per cent of lorries on British roads are defective

AOL Cars UK
09/11/2017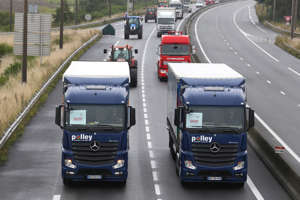 © Chris Radburn/PA Archive/PA Images Lorry drivers join the blockade from a motorway junction along the A16 near Calais, France

A report from the Driver and Vehicle Standards Agency (DVSA) has found a shocking number of lorries on British roads are driving with serious defects. Roadside checks of over 6,000 vehicles found 11 per cent of British-registered lorries – and 12.5 per cent of those registered overseas – carried mechanical issues.
The most common problem found was faulty brakes, a big worry on a vehicle that often weighs more than 40 tonnes. Brake defects accounted for 28 per cent of the mechanical problems in British lorries, and 33 per cent in foreign lorries.
Defects with axles, wheels, tyres and suspension were also found, as well as issues with the chassis and steering.
Related: Motorway trucker filmed with foot on dashboard (Sky News)
These weren't minor faults, either - all of the problems were serious enough to warrant taking the lorries off the road, forcing them to interrupt their journey to immediately rectify the faults.
Gareth Llewellyn, chief executive of the DVSA, said: "'Brakes that don't work, particularly in something with the weight and power of a lorry, can devastate families and their communities.
"So it's disappointing that a minority of operators are still not performing effective checks. If we catch you with brakes that don't work, we will take your vehicles off the road to ensure the safety of the travelling public."
He commented on the gap between British and overseas lorries, saying: "As in most previous years non-GB vehicles and drivers have higher rates of prohibition and serious offence rates than GB drivers and vehicles."
The DVSA said that while the number of lorries with serious defects has not increased in recent years, the proportion with issues that warrant an immediate ban has risen to just under a third. It urged drivers to check their brakes following the findings.
Edmund King, president of the AA, commented, saying: "If you have a 44-tonne truck with faulty brakes or steering that really is a tragedy waiting to happen.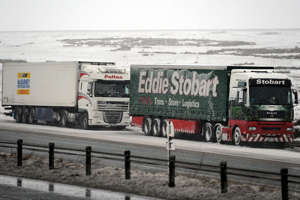 "This provides more evidence that foreign lorries are not up to the same standards as GB lorries. This poses an extra danger – particularly on motorways around the ports."
The report also found vehicles checked in Hampshire and surrounding areas have a much higher rate of mechanical defect, suggesting freight transported through the region's ports could be to blame.