New 2020 Audi A3 to spawn seven-strong model lineup

Autocar
14/07/2019
Audi chairman Bram Schott has granted production approval to the new A3 ahead of its UK introduction in early 2020.
However, it will be another year before sporting variants of the new fourth-generation Audi model – including a rapid 417bhp RS3 with a new mild-hybrid drivetrain and revised electro-hydraulic four-wheel drive system – challenge rivals from Mercedes-AMG and BMW M.
Video: 2020 Audi S3: hot saloon variant spotted ahead of A3's reveal​
The arrival of the new A3 has been delayed by more than a year because of fallout from the diesel emissions scandal and Audi's decision to prioritise development of its pure-electric E-tron models. However, the new A3 has been heavily reworked in a move that, one senior Audi official has suggested to Autocar, will make it the most advanced car in its class and a new benchmark in terms of refinement.
"It is better in every way, especially the interior, which is a real strong point and brings a true premium feel and digital features you otherwise only find in the luxury class," our source said. "We've also spent a lot of time on improving refinement, especially the ride quality, which our latest tests show place it right at the top of its class.
With the move towards partial electric propulsion in plug-in hybrids, where there is no influence from mechanical noise developed by the engine, this particular area of development is more important than ever."
© Provided by Haymarket Media Group The new A3 sports a bold new look that links it closely with the smaller A1 and higher-riding Q3. The upcoming BMW 1 Series and Mercedes A-Class rival, known under the internal codename AU380, sits on a heavily re-engineered version of the Volkswagen Group's MQB platform.
The steel and aluminium structure is said to be lighter and more rigid than the platform used by today's A3 and includes developments that specially target vibration and noise reduction.
The MQB II platform supports a more advanced electrical architecture that will allow the new A3 to offer a wider range of both mild- and plug-in hybrid drivetrains throughout its planned seven-year life cycle. It has also been brought up to date with digital cockpit functions, internet-based communication features and upcoming 5G-enabled autonomous driving innovations.
© Provided by Haymarket Media Group The new A3 will initially be produced in five-door hatchback and four-door saloon guise only. Production of UK-bound five-doors will continue to take place at Audi's Ingolstadt factory in Germany, with four-doors built in its Gyor plant in Hungary.
A three-door hatchback A3 will not make production because of the lack of demand in key markets. That decision also means the A3 Cabriolet will disappear from the new line-up. In their absence, Audi plans to introduce a new high-riding A3 Allroad model with a uniquely styled grille and bumpers as well as wheel-arch cladding and a chassis tuned around all-season tyres.
Based on the five-door hatchback, it is expected to challenge the Mercedes GLA from the end of 2021. It will sit underneath the Q3 and soon-to-be-revealed Q3 Sportback SUV coupé in the Audi line-up. Plans for a new five-door A3 liftback model, as previously reported by Autocar, remain on track, according to sources. However, Autocar understands the Mercedes CLA rival has been delayed until 2021 because of a bottleneck in engineering capacity at Audi.
© Provided by Haymarket Media Group A sister car to the Seat Leon, Skoda Octavia and Volkswagen Golf, the new A3 has grown slightly in all bodystyles. The increase in the wheelbase and track widths translate to a roomier interior and what Audi promises will be class-leading luggage capacity.
Inside, it shares its dashboard styling with that of the second-generation Q3 and will make use of a similar range of connectivity features, including SIM-enabled realtime navigation using mapping from HERE, the former Nokia-owned joint venture now operated by Audi, BMW and Mercedes.
The new Audi will be sold with a choice of turbocharged petrol, diesel and (not for UK) natural gas engines in combination with either a six-speed manual or seven-speed dual-clutch automatic gearbox. All but the most powerful models will use front-wheel drive, although, in a continuation of today's model mix, Audi plans a selected number of four-wheel-drive quattro models, including the new A3 Allroad.
© Provided by Haymarket Media Group The petrol engines will include 128bhp and 148bhp versions of the VW Group's turbocharged 1.5-litre four-cylinder, together with a 187bhp version of Audi's turbocharged 2.0-litre four-cylinder. Both petrol powerplants feature a 48V electric architecture and electric boosting as part of developments to increase overall efficiency.
Although it is not planned for the outset of sales, a successor to the petrol-electric plugin hybrid A3 E-tron is being developed. Autocar has been told that it will have battery technology borrowed from the E-tron SUV for an increased electric range.
Despite big investments in the development of its electric-powered E-tron models, Audi says it continues to see strong demand for diesels within the A3 line-up in the short to medium term. The new model is due to be sold with up to three versions of parent company VW's Euro 6d-Temp turbocharged 2.0-litre four-cylinder diesel with outputs of between 134bhp and 201bhp.
© Autocar New 2020 Audi A3 to spawn seven-strong model lineup Audi insiders suggest all diesel variants of the new A3 will receive a 12V electric system and starter/generator, reducing fuel consumption by around 10%. Further innovations include a new particulate filter and double SCR catalyst to dramatically cut NOx emissions.
Also planned for launch in 2020 are four-wheel-drive successors to the S3 and RS3. The S3 is set to continue with a powered-up version of today's turbo 2.0-litre four-cylinder petrol engine with up to 325bhp.
The same engine is also reported to replace the existing turbo 2.5-litre five-cylinder petrol unit in the RS3, where it is rumoured to develop 402bhp, with an additional 15bhp from the starter motor taking combined output to a Mercedes-AMG A45-tipping 417bhp. However, this is denied by Audi, which confirms the 2.5 will continue to be produced.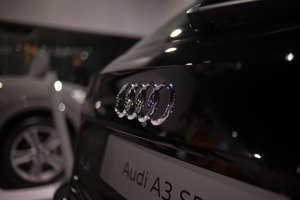 © Getty BOGOTA, COLOMBIA - NOVEMBER 11: An Audi A3 logo is seen on a vehicle during the International Motor Show Bogota 2018 at Corferias Convention Center on November 11, 2018 in Bogota, Colombia. (Photo by Juancho Torres/Getty Images) Among the developments destined for the RS3 is a reworked multi-plate clutch four-wheel-drive system that is claimed to provide it with a similar rear-wheel-drive drift mode function as the Ford Focus RS and new A45. Audi has placed significant emphasis on the handling of the A3 in an attempt to set it apart from other MQB-based VW Group models.
"The standard set-up is tuned to make it sharper and more direct than other MQB models, but the inclusion of Drive Select will allow customers to tailor the dynamics to their specific tastes," Autocar's source said. "The clear aim is to not only make it the most refined but also the best-handling car in its class."
The new Audi A3: What's coming when?
A3 five-door: early 2020
A3 saloon: mid-2020
A3 E-tron: mid to late 2020
S3 hatch and saloon: late 2020
RS3 : early 2021
A3 liftback: 2021

A3 Allroad: mid-2021
Gallery: Next-gen Audi S3 Saloon spied for first time (motor1.com)
MSN are empowering Women In Sport this summer. Find out more about our campaign and the charity fighting to promote the transformational and lifelong rewards of exercise for women and girls in the UK here. ​