One third of motorists keep driving despite failing eyesight

Auto Express
14/11/2017
A survey of over 2,000 adults found 30 per cent have "doubted whether their vision is adequate" to drive, yet continue to do so.
A further 26 per cent reported they'd delayed getting their eyes checked despite suspecting their vision was deteriorating, while only 40 per cent said they would give up driving if they were told their vision wasn't good enough to drive.
The poll, carried out on behalf of the Association of Optometrists, is backed up by optometrists themselves, a third of whom report having tested a patient in the last month who continues to drive, despite their eyesight failing to meet legal standards for driving.
Related: Motorway trucker filmed with foot on dashboard (Sky News)
Optometrists are calling for a tightening in the laws surrounding eyesight and driving, with 80 per cent saying a full eyesight test should be given to drivers prior to a licence being issued, and 90 per cent saying qualified drivers should have regular sight tests.
At present, those sitting their driving test are only required to read a number plate from 20 metres, and then face no more mandatory checks for the rest their motoring lives, only being required to declare their vision good enough by self-assessment - though drivers are supposed to in inform the Driver and Vehicle Licensing Agency (DVLA) if any eyesight problems develop.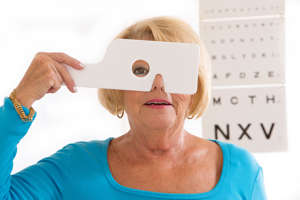 Optometrist and AOP member, Dr Julie Anne-Little said: "The UK system, which relies on self-reporting and an initial number plate test, falls behind many other countries. Because sight changes can be gradual, often people won't realise that their vision has deteriorated over time."
More than 10,000 drivers had their licence revoked last year due to poor eyesight, according to the DVLA.
Follow us on Facebook and on Twitter
______________________________________________________________________________________________
Related: Top 20 most dangerous places to be a driver (Read Cars)