Pay and dismay for UK city parkers

Read Cars
03/01/2018
New research has revealed that workers driving to work can pay as little as £3 or as much as £42 for a nine-hour stay in a car park.
Drivers were asked to disclose how much they spend on parking per month whilst at work, with 80% of respondents paying for it out of their own pocket and almost half (48%) shelling out more than £360 a year.
The huge differences in the price of parking, based purely on work location, were uncovered in the study by leading vehicle leasing company, Leasing Options.
Related: Mercedes-Benz automated valet parking revealed (AutoMotoTV)
Average cost of a day's parking in the UK's Top 10 largest cities:
10) Birmingham – £5.20
9) Sheffield – £12.50
8) Bristol – £12.75
7) Leicester – £14.75
6) Edinburgh – £16.38
5) Liverpool – £16.43
4) Leeds – £17.63
3) Manchester – £18.13
2) Glasgow – £20.50
1) London (Trafalgar Square) – £40.25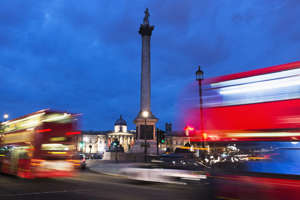 © Tetra Images, Getty Images Trafalgar Square Unsurprisingly, London is the most expensive city to park your car, with the cost of a nine-hour stay coming in at almost 170% higher than the average across all other cities. Driver in Birmingham, on the other hand, can expect to pay an average of £5.20 for the same parking stay.
Meanwhile, more than half of London employees (56%) looking to pay for a month's parking in one go will have to cough up £30 or more, with an unlucky 16% paying more than £90.
East Anglia (66%), North East (72%) and South East (74%) residents pay the least for parking per month, with the majority of drivers paying less than £30 a month when parking for work.
© Provided by Fresh Press Media Car parking - Pexels Photo "This new research has really highlighted the huge cost of parking for drivers, although certain regions seem luckier than others when it comes to the monthly cost of driving to work," said Mike Thompson of Leasing Options.
"We hope the results of this study will demonstrate just how much employees are shelling out for parking, and encourage them to shop around for car park providers and locations that will save them money.
"Our research found that drivers who are happy to park slightly further away from their workplace can certainly save money if they are willing to walk."
Related: World's most car-friendly cities