Porsche 718 Boxster (2018) review: all the sports car you need?

CAR
27/12/2017
Porsche 718 Boxster (2018) review: all the sports car you need?
© Bauer Media 2017
► Boggo Porsche 718 Boxster driven
► Is the non-S model the one to go for?
► Entry-level Boxster yours from £41k
Related: 718 Boxster - is Porsche's roadster better than ever? (Auto Express)
The Porsche 718 Boxster can now be had in three states of tune: standard, S and GTS. In early 2016, oversteer merchant Ben Barry said that the S was the pick of the range, but how does the entry-level roadster stack up?
We grabbed the keys to a 'basic' 718 Boxster, complete with a six-speed manual, to see what the fuss is about.
Is the 2018 Porsche 718 Boxster fast?
A 5.1-second 0-62mph time says yes, but the boosty nature of the engine and bassy note coming out of the back makes that acceleration figure rather flattering.
That's no bad thing, mind – the basic 718 still has 296bhp under its belt from the turbocharged flat-four. Mid-range torque is plentiful when you're on the boost – enough to easily let the powered wheels slip in less-than-ideal conditions.
Sport mode still has the traction control activated, but allows you a little sideways fun before reeling you back in again.
But nobody buys a Boxster for outright speed, right? They buy it because it's a Porsche, and therefore handles well…

Go on then, let's talk Boxster handling
Porsche has this department completely licked. The ride is supple at a cruise and while Sport mode does firm the suspension up, it's not bone-shattering. Body control is kept to an impressive minimum and no matter where, how or when you're driving, all of the controls feel positive espousing a detailed rapport with your hands and feet.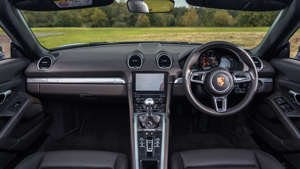 The steering has a gorgeous weighting to it and is pin-sharp, throttle response is accurate and the six-speed manual 'box is a delight to use. The clutch and gearlever are both heavy, but that makes it so much more involving. This is a tactile sports car.
Our only niggles would be that the clutch pedal travel feels a smidge too long and we'd like stronger brakes. Whether or not we'd recommend speccing the five thousand pound carbon ceramics is an entirely different story…
That engine note, though…
Yes… yes… 'it's not a flat-six wail'… blah blah. The cruellest among you will say it sounds like a sickly Beetle, but you have to remember that plenty of classic Porsches (914, anyone?) have been powered by flat-fours.
Plus, we quite like the noise. Granted it has none of the top-end charisma of the old six-banger, but it's still got tonnes of character and, if nothing else, sounds unique in the sports car class.
Tell me about the entry-level Porsche 718 Boxster's interior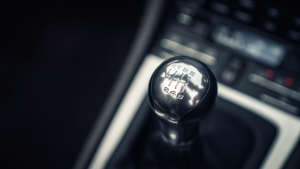 You know that old saying: 'If you drive a Boxster it's because you couldn't afford a 911'? From the driver's seat that aged trope means nothing – the Boxster's interior is almost exactly the same of that of its bigger, more powerful brother.
You're welcomed by a large, thinly-rimmed steering wheel, analogue instruments, a high centre console and a cocooned driving position. Space is tight, but there are a few clever cubbies hidden in the door inlays and centre console.
The infotainment is a little last-gen; the screen looks small and low-res from your eyeline and you need agile wrists to reach around the gearlever, but it's easy to use and still comes with a decent level of connectivity options.
Can I fit people and things?
You're reading the wrong review.
Yeah but, seriously...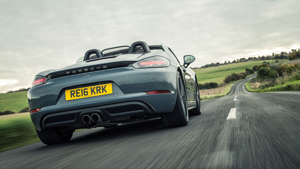 Well, the frunk is deep enough for a couple of small suitcases, the glovebox is a good size and there are a couple of cupholders hidden behind a panel on the passenger's side, but there's little else that a small drop-top sports car can offer. Get used to having no friends.
Verdict
It might be the cheapest, least powerful member of the Porsche convertible family, but you really shouldn't write it off.
The 718 Boxster is still a brilliant machine to drive. All of the controls are positive in your hand, so much so that you get out of every drive with a smile on your face – and your 911-owning mates won't be able to tell the difference when they climb inside.
We'd still pick the Boxster S for a bit more shove, but the simplicity of Porsche's basic baby drop-top is alluring nonetheless.
Specs

Price: £41,739
Engine: 1988cc flat-four turbo petrol, 296bhp @ 6500rpm, 280lb ft @ 1950-4500rpm
Transmission: Six-speed manual, rear-wheel drive
Performance: 5.1sec 0-62mph, 170mph, 38.2mpg, 168g/km CO2
Weight: 1410kg/steel
Dimensions: 4379/1801/1281mm