These radical new bike designs could transform cycling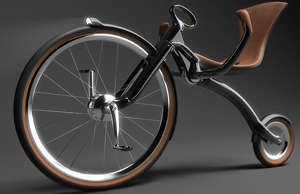 © Petovdesign
It's getting much easier to get around the capital, or anywhere else for that matter, thanks to the huge range of bikes that are currently on the market. In fact, if you come into London either on a daily basis or just on the odd occasion, there is now a new app from Santander that allows you to hire a Boris bike by just using your phone. But Boris bikes are just one part of a huge cycling initiative that is going on to make us both greener and healthier.
What of the future though? Is there much that can be done to improve the bicycle? Bike designers are many and varied and they think the basic concept can be bettered. All around the globe they're working in darkened rooms to produce a variety of two-wheeled creations that might make cycling easier. Here's a look at just a few that are on the drawing board…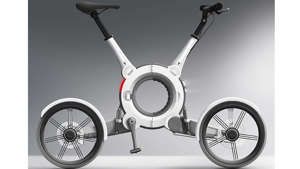 The Folding Commuter Bike

This is the Folding Commuter bike by Rick Marland — that rather weird circular hole you can see in the centre of the bicycle is the lock, which doubles as a carrying handle when the bike is folded up. The lock is large enough to go around a lamppost, and of course if a would-be thief breaks it then the bike can no longer be ridden.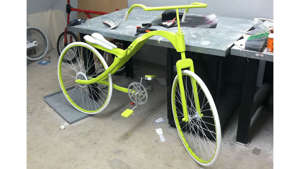 Folding Bicycle

Another eye-catching folding bicycle idea, this time from industrial designer Samantha Kay Schulz. You can see that the saddle is split in two to aid the folding mechanism, and this prototype version has been constructed out of wood, PVC, insulation foam, and existing bicycle tires. "This bicycle was designed to capture the classic beach-cruiser style, but also have the versatility and portability of a folding bicycle," says Schulz. In other words, you can ride it down the promenade (or boardwalk, depending on where you're on holiday) and then fold it up ready to put in a car boot or carry on the train.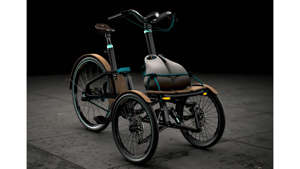 Kaylad-e trike

The humble trike doesn't seem to get much love from concept designers but Dimitris Niavis has certainly gone all out with his ideas for the Kaylad-e. Designed as part of his graduation project as "a hybrid vehicle for commuting in the modern metropolis", the tricycle aims to make riding in the city centre a more pleasurable and safe experience. The three wheels mean you won't get knocked over as easily, the integrated electric motor means you don't have to break a sweat in your business suit, and there's ample room for a bag or two at the front. The Kaylad-e features an integrated LED light system as well.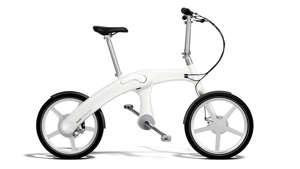 Mando Footloose

Free of chains, powered by electricity and able to be folded in half, the Mando Footloose bicycle includes pretty much all of the innovations currently in vogue with bike designers. Dreamt up by two South Korean automotive suppliers in partnership with British designer Mark Sanders, the bike features a hybrid drive system that builds up power from your pedalling and can carry you further with no extra effort on your part. The bike's speed and the current terrain are taken into account by the engine, which can scale up or scale down its efforts accordingly. There's also a useful digital display on the front of the bike that provides data on riding mode, distance covered, speed and battery status.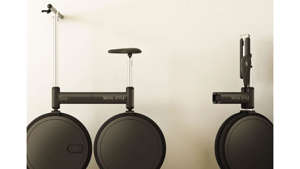 Full Circle

This rather dramatic bike concept was produced as part of the Seoul Cycle Design Competition and can be folded down into a compact space despite the large wheels. The pedals are fitted inside the front wheel and there's no chain to deal with. When folded up, the bike can be carried behind you like a piece of luggage, so you can quickly hop on and off trains and buses or complete the final leg of your journey on foot. "Full Circle is a compact-sized city bike that has a large wheel size of 508mm or 20 inches," say designers Sanghyun Jeong and Jun-Tae Park. "In short, this is a small bike with big wheels. Full Circle does not have chains, but a free wheel gear directly connected to its pedals."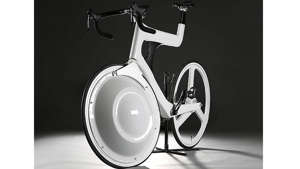 Transport Commuter Bike

The Transport Commuter Bike from designers David Hotard, Matthew Campbell and Edwin Collier is designed to solve one specific problem: transporting all your stuff with you on a bicycle. Side saddle bags and backpacks can easily affect the balance of a bike, so the design team went to work on a different approach to the problem. The Commuter Bike the inventors came up with has a small luggage area in the front wheel, so you can drop in your briefcase or rucksack and then forget about it until you reach your destination. Your precious cargo is always in view, so you don't have to worry about someone running stealing it behind your bike, and the ride is still a smooth and balanced one.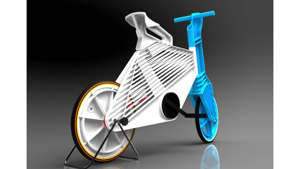 Frii

One of the most dramatic-looking concepts in our round-up, the Frii bike is built out of injection-moulded recycled plastic. Locally sourced waste plastic could be used to quickly produce the components for the bike, and they would then be snapped together as required, giving commuters a novel way of getting to work and reducing the strain on landfill sites at the same time. It's the bright idea of Israeli designer Dror Peleg. The ribbing at the centre of the main section adds strength to the framework and ensures that the bike would be safe to ride, while the saddle could be custom-made to suit each cyclist.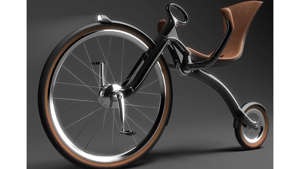 Oneybike

You're certainly going to turn one or two heads if you arrive for work on the Oneybike. Inspired by the style of a classical highwheeler but with the comfort provided by a recumbent riding position, the Oneybike is also foldable, so you can stick it in the corner of your home or office once you've reached your destination. The concept was dreamt up by industrial and graphic designer Peter Varga, who has earned several awards and nominations for his work. Unfortunately, this is very much a concept idea without much in the way of actual details, but Varga says he wanted to bring out "modern lines and features, with little bit of retro feeling."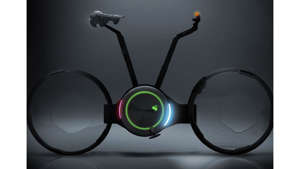 London Garden Bicycle

This concept was worked up in response to a design challenge asking contributors to imagine a car-free area of London to be set up by 2030. The bike itself has an integrated battery that can be charged by your pedalling, indicators on the handlebars and hubless wheels where you can store slim items of luggage. Most impressive is the way that it folds in half, enabling you to stack it alongside other bikes in the 'London Garden' zone or use it as a bus seat. You can even use the electricity you've used while cycling to help power the bus that you ride home on, adding to the design's green credentials. The designers are Marten Wallgren, Il Choi, David Seesing and Miika Hekkinen.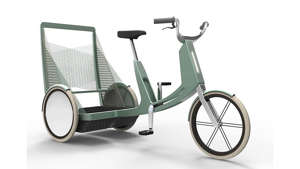 Lecomotion Nested Urban E-Trike

Natacha Lesty is the designer behind the Lecomotion Nested Urban E-Trike, a reimagining of how urbanites might get around town and carry their shopping bags at the same time. It's actually a combination of a bike sharing system and a shopping trolley — these bikes can be stacked together in the same way as trolleys at your local supermarket, so they don't have to take up huge amounts of space when not in use. There's a built-in battery you can use if you can't work up enough speed through pedal power alone, or if you have a couple of kids or shopping bags in tow.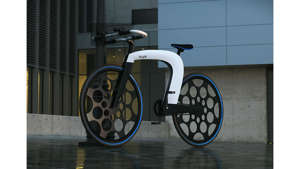 © Marin Myftiu
nCycle
Take a look at the nCycle, which in the designer's words wants to "revolutionise the future of e-bikes". It features a clever locking system that uses the actual frame of the bike, a slim luggage compartment directly under the rider, and a foldable frame that means you can store the bike in a compact space. There's also an electric motor fitted to the rear hub, built-in headlights and Bluetooth speakers, and a holographic display right on the handlebars. In fact it's difficult to think of anything that designer Marin Myftiu has missed out with the nCycle, and it's a bike we'd love to see get past the concept stage. 

More on MSN:

Big, beautiful photos of all 22 models of the Apple Watch (Business Insider)
The 70 coolest new buildings in the world (Business Insider)