Top 10 city cars

AOL Cars UK
18/03/2018
© Provided by AOL Cars UK  A couple of decades ago, buying a 'city car' meant putting up with a lot. You'd generally be forced to sacrifice power, comfort, space, safety, interior equipment and looks, all for the privilege of low running costs and ease of driving.
But that's not the case any more. Modern city cars are brilliant pieces of kit, and the best ones are even better than some superminis in many respects. They still offer rock-bottom running costs, courtesy of low tax and high fuel economy, but back that up with spacious, comfortable interiors and good road manners regardless of whether you're pootling round town or taking a long cruise on the motorway.
We've rounded up ten of the best here. Despite there being a few great electric city cars on the market, we've limited ourselves to petrol models for now - they're much cheaper than the electric equivalents, which remain a bit pricey for most buyers.

Toyota Aygo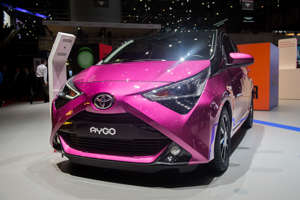 © Getty Toyota Aygo The original Aygo arguably popularised the modern city car, and the second-generation model builds on that. It offers striking looks, a youthful and well-equipped interior, and amazing levels of efficiency from a modern, three-cylinder 1.0-litre engine.
It's also not bad to drive, with light steering making for effortless navigation in town. With a facelifted model recently revealed, the Aygo could soon be back at the top of its class.
Fiat Panda
Visit any Italian city and you'll see hundreds of Pandas. That's not just due to national pride, either - they're chosen for their entertaining drive and impressive practicality.
The Panda's boxy body makes it a cinch to load up with people and luggage, while those after a bit more adventure can even spec a 4x4 model which is genuinely capable on the rough stuff. It's cute, cheap, and highly impressive.
Skoda Citigo
© Provided by AOL Cars UK  The Skoda Citigo, launched alongside sister cars from Seat and Volkswagen, was an absolute revelation when it came along back in 2012. It offered a genuinely great driving experience - superior to many cars from the class above - in a classy and economical package.
Skoda's version of the car was the cheapest of the three, and to some, the most attractive - lacking the contrived styling details of the Volkswagen or the boring face of the Seat. Impressively good finance packages made the deal even sweeter.
Hyundai i10
The first-generation Hyundai i10 was perhaps the biggest beneficiary of the government's scrappage scheme - which bought the price of the tiny hatchback down to incredibly low levels. The second-generation car did not have that advantage, but it's still been a success due to its general level of accomplishment as a city car.
With perky engines, great handling, good value, a long warranty and a spacious interior, it ought to be near the top of any small car shopping list.
Kia Picanto
Ok so a little Kia hatchback may not be the coolest thing in the world, but there's a certain charm about the Picanto that few other cars have. It's simplicity at its finest, offering a cheerful drive, enough practicality in its class and the firm's famous seven-year warranty.
If you want to stand out a bit, there's even the X-Line trim which offers a funky appearance with some bright colours.
Peugeot 108
The Peugeot 108 shares plenty with the Toyota Aygo, but it feels a rather more premium option thanks to the addition of a 1.2-litre turbocharged engine and mature styling.
It remains a good-to-drive package though, with a clever and tech-filled interior. Plus, there's the option of the Top! retractable fabric sunroof, which can be seen as a cheaper rival to supermini convertibles such as the Citroen DS 3 Cabriolet.
Renault Twingo
"It's like half a Porsche 911!" journalists jokingly said when the Twingo was released. It's rear-engined layout was certainly revolutionary for the class, and has a few key benefits - including an incredible turning circle that beats even a London taxi.
It's not just a gimmick though, as the Twingo remains a good car to drive thanks to perky engines and a smart interior.
Suzuki Celerio
© Provided by AOL Cars UK  Suzuki is arguably the queen of the cheap and cheerful city car, despite being a relatively small manufacturer, and the Celerio is no exception.
It may not be the last word in premium, but it does all the basics to be a great little runabout, with good visibility, easy driveability and just about enough space for a weekly shop. Plus, prices start at just £7,999, making it extremely affordable.
Vauxhall Viva
Vauxhall's popular Corsa may steal most of the sales, but it's smallest model is the Viva, and it's a thoroughly decent city car. It's great value, as the starting price of £9,155 gets you bags of kit.
Top-spec models even have Vauxhall's OnStar concierge system, which connects you to an operator who can schedule servicing, plan journeys and help in the event of an emergency.
VW up!
The VW up! is perhaps the default choice for anybody wanting a classy city car. It's ostensibly the same car as the Skoda Citigo, but offers the same solidity and glitz of VW's other cars - plus that iconic badge on the nose.
Thrill-seekers can even opt for a GTI model, which gives extra performance and greater visual appeal for a low starting price. It could become the junior hot hatch of choice for those who can't afford anything larger.
Related: 2018 Kia Picanto Review | Can it beat a Hyundai i10? (What Car)