Traffic lights to be introduced on motorways

Auto Express
13/11/2017
Traffic lights are to be introduced for the first time on UK motorways, as Highways England bosses attempt to combat growing congestion.
The £7 million trial scheme is being rolled next month at the Croft interchange, where junction 21A of the M6 meets junction 10 of the M62 near Warrington, Cheshire. The lights at this link road junction will operate during peak hours.
While traffic lights have existed on motorway slip roads for some years now, this new scheme marks the first time lights have been installed on the motorway network itself.
Related: Motorway trucker filmed with foot on dashboard (Sky News)
While the UK's 2,300 miles of motorway represent just one per cent of the nationwide road network, they account for 21 per cent of the 323 billion miles drivers travel each year, and motorway traffic was up 30 per cent last year compared to the mid-90s.
Those statistics are borne out by drivers themselves, 61 per cent of whom said in a survey published this month that they felt motorway traffic had become worse in the last year.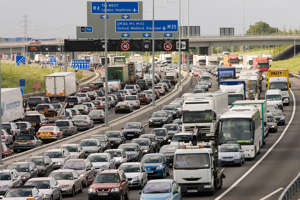 © Tim Graham/Getty Images Traffic jam on the M25 The new scheme will begin in December with the introduction of traffic lights on the eastbound M62 heading towards Manchester, and will be accompanied by reduced speed limits at peak times.
Following that initial phase, in January lights will be installed on the link road where the M6 meets the eastbound M62. This portion of the scheme aims to reduce the amount of traffic on the already congested M62.
If successful, the trial scheme could be rolled out at other motorway link roads in the UK, as transport bosses continue to lower congestion on the UK's road network, which costs the UK economy £9 billion each year.
______________________________________________________________________________________________
Related: Highway to Hell - The worst traffic jams in history (Photos)