Ultra-rare Mercedes SLR Stirling Moss for sale

AOL Cars UK
14/07/2017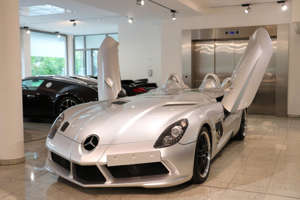 This incredibly rare Mercedes-Benz SLR Stirling Moss has come up for sale.
One of just 75 examples ever produced, it is currently for sale at prestigious car seller James Edition based in Munich.
The car was designed to be a modern take on the original 300 SLR roadster raced by Sir Stirling Moss back in the 1950s.
This particular example has clearly been kept factory fresh, having covered just 475km less than 295 miles.
It was created in 2009 as a final hurrah to the Mercedes McLaren supercar. You couldn't just go and buy one from Mercedes, you had to already own a McLaren version, making it even more exclusive.
Inside McLaren's futuristic factory
Almost all of them were finished in silver – exactly the same as the original racer. However, this one has very different wheels, being painted black with chrome edges.
Inside it doesn't have the same tartan seat Moss had in his, but does have two-tone black and red leather with a pattern that harks back to the original plaid interior.
Even the front headlights are designed to be modern versions of the ones fitted to the original SLR more than 62 years ago.
Other features include some incredible exhausts that stick out of a huge side vent located on each side of the front wing. Four chrome tips optimise the noise of its snarling supercharged 5.4-litre V8 engine.
It is also completely roofless, however, there are two hardtop covers that protect the interior from the elements while the car is parked.
And although the price hasn't been revealed, we expect it to be more than the £1.79 million paid for one last year at auction.
______________________________________________________________________________________________
Related: Formula One stars and their cars (Motoring Research)