Unique car number plate that spells out the word 'TAXI' on sale for £100,000

Mirror
07/02/2018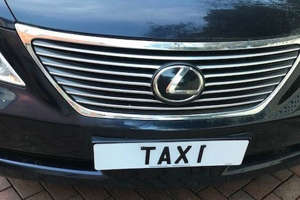 A unique car number plate that spells out the word 'TAXI' has emerged for sale for £100,000.
The licence plate 'TAX 1' is one of the rarest and most sought after of the DVLA number plates.
It has been in private ownership for almost 40 years but is now going up for auction at Humbert & Ellis Auctioneers in Whittlebury, Northamptonshire.
Auctioneer Jonathan Humbert is expecting a lot of interest in the plate when it goes up for sale.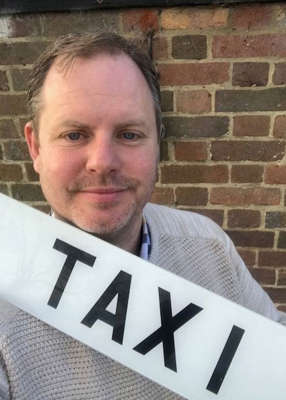 © BNPS He said: "Number plates with the lowest number of '1' always attract a premium.
"And the letters that spell the word 'TAX', whilst ordinarily instilling fear in the hearts of most, will be highly sought after by tax experts, accountants or indeed taxi company owners.
"This number plate is available now and only now and could go into private ownership for another 40 years so this represents a real one-off investment opportunity for this rarest of UK number plates."
The sale takes place on February 22.
The number plate isn't nearly the most expensive the DVLA has sold though, according to Auto Expess.

The UK's FIVE most expensive car number plates:
£518,000 - The most expensive number plate ever sold by the DVLA was '25 O,' bought by Ferrari dealer John Collins in 2014. It now sits on a £10 million Ferrari 250SWB once owned by Eric Clapton.
£440,000 - The initials of Formula 1 'F 1' were bought by Bradford businessman Afzal Khan in 2008 and assigned to his McLaren-Mercedes SLR.
£404,000 - Bought back in 2008 by an anonymous bidder the plate ' S 1' was then allegedly fixed to an old Skoda.
£352,000 - The plate '1 D' was bought in Warwickshire by Lebanese businessman Nabil Bishara before One Direction (1D) were even formed.
£331,000 - Bought in 2006 by mobile phone businessman Mike McCoomb who claimed it was for his 10 year-old son.
Back in 2015 the DVLA had a bit of good car-ma after a wealthy woman paid a whopping £233,000 for a Hindu-related registration.
Bidding for KR15 HNA started off at £27,000 and quickly shot up as a number of people fought to get their hands on the registration.
The room was crammed with buyers, all of the phone lines were full with more people bidding online.
A London-based businesswoman of Indian heritage eventually won the auction - paying a phenomenal £233,000 for it - even though it's believed she didn't even have a car.