Watch President Trump and Kim Jong-Un bond over The Beast

motor1
12/06/2018
Security is not thrilled about letting photographers seeing inside.
The de-nuclearisation negotiations between American President Donald Trump and North Korean premier Kim Jong-Un are certainly important, but despite the historical importance, the talks don't really fall into the purview of Motor1.com's normal subject matter.
However, when the two leaders check out The Beast, Trump's bullet-proof limo, we take notice. Watch Kim take a brief look inside the vehicle in the clip below.
WATCH: President Trump walks with Kim Jong Un to show off his presidential limousine that is nicknamed "The Beast." https://t.co/SjJeNHlVRD pic.twitter.com/f2CJ4ZHR6x

— NBC News (@NBCNews) June 12, 2018
In order to ensure the President's safety, very little is known about The Beast. While the exterior looks like the Cadillac limousine, a heavy-duty truck chassis actually underpins the vehicle. The significant amount of armour and other equipment means that it weighs 15,000 to 20,000 pounds. 

Rumours suggest that the equipment onboard includes a fire suppression system, front-mounted night-vision camera, tear gas launcher, sealed rear section with filters to protect from a chemical weapon attack, and a chaff decoy system in case an attacker launches a missile at the car.
If things go very wrong, a supply of the President's blood type is allegedly kept inside. Encrypted communications equipment let Trump use The Beast like a rolling oval office.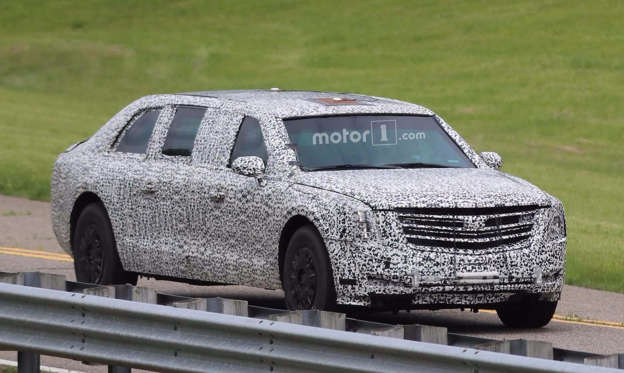 Photos from Singapore show that that Trump is still using the Obama-era version of the Beast for this trip, and it might be one of the last journeys for the limo. According to statements to Fox News, the Secret Service intends to start using a new model (spy shots above) in the late summer of 2018.
Source: NBC News via Twitter, Fox News