World exclusive: Ariel to launch world-beating supercar with 1180bhp

Autocar
22/08/2017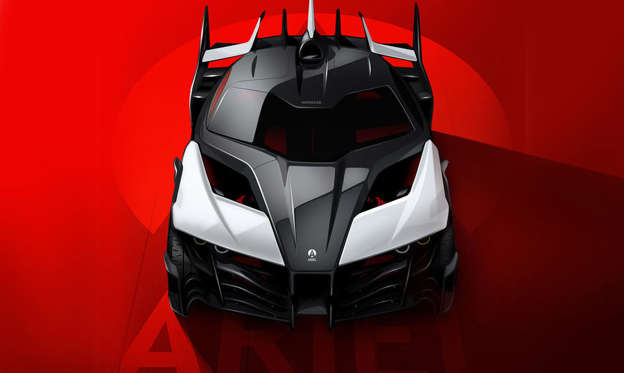 Ariel has released this official image of the P40 supercar concept
British firm Ariel is poised to unveil what it believes will be the fastest-accelerating and most advanced supercar in history, a 1200bhp, four-wheel-drive electric two-seater with a revolutionary turbine range extender powertrain.
The vehicle, codenamed the P40, will be capable of 0-100mph in just 3.8sec, and is scheduled for production in 2020.
The chassis and powertrain of "tomorrow's supercar today", as Ariel puts it, is the result of a three-partner, three-year project supported by the government and will be revealed later this month at the Cenex Low-Carbon Vehicle (LCV) show at Millbrook Proving Ground.
Built on an aluminium monocoque chassis, the new Ariel is expected to weigh around 1600kg and to be clad with carbonfibre body panels, although the exterior shape is still in development.
The P40 is powered by four separate electric motors, each producing 295bhp. Each is fed from a centrally mounted, 42kWh liquid-cooled battery mounted at the car's base.
As well as the 4x4 model, Ariel is proposing a slightly simpler, slightly slower two-wheel-drive model with a 56kWh battery, itself the subject of a separate, earlier government-backed programme called Amplifii.
For both models, the turbine range extender, which produces a maximum of 35kW, sits atop the two rear motors and can produce sufficient power to maintain a fast road performance once the initial 100-120 miles of electric range is exhausted.
The partners say they're not primarily aiming at track-day enthusiasts, but estimate the car will be good for around 15 minutes of flat-out track driving before needing around 50 minutes of fast-charging.
The flagship 4x4's official maximum power runs to a staggering 1180bhp, with an eye-watering torque peak of 1328lb ft, all of it intelligently deployed by advanced electronic traction control and torque vectoring, and incorporating regenerative braking.
Ariel forecasts the new supercar's 0-60mph and 0-150mph acceleration times to be 2.4sec and 7.8sec respectively, but the firm is restricting the maximum speed to 160mph "because no-one needs to go faster".
Ariel boss Simon Saunders said: "We're building tomorrow's aspirational car using our small-company agility to beat the big companies. We love the Ariels we make now, but we know we have to embrace new technology. If we don't, in 20 years we'll be making antiques, and we could even be legislated out of existence."
Saunders' view of the future is all the more impressive because he is currently sitting on a 14-month waiting list for his Atom sports car, Nomad off-roader and Ace motorcycle. He plans to keep making and updating these staple Ariel models "for decades to come" but sees electrification as the future.
"We built an electric Atom more than 10 years ago," he said, "but the technology at the time meant it was more expensive and slightly slower. It wasn't a business proposition, but it's different now. And because people expect Ariels to have great acceleration, we've got to go for the very top of the market. We're not interested in some 'tried and did well' category."
The new Ariel, whose official name is still to be revealed, is the spectacular result of a three-company co-operative project called Hipercar - an acronym for High-Performance Carbon Reduction - and backed by a £2 million grant from Innovate UK, the government technology agency.
The objective, now reached, was to design and deliver a credible mechanical package to the LCV show using pioneering technology from three small and ambitious British companies.
Ariel developed the overall concept, including the body, chassis and suspension, Delta Motorsport worked on the battery, range extender and electronics, and Equipmake developed the electric motors, gearboxes and electronics.
"We want the project to be a poster boy for new technology," said Saunders. "It's risky, because the car is packed with new stuff that needs to be proven, but we want it to be seen as tomorrow's supercar. "
The performance will be quite astonishing. Technology is moving so fast today that if you do anything, the length of development means you risk being left behind.
But we decided that doing nothing was even worse, and we've minimised the risk by acting fast, and producing a design flexible enough for future development.
"Our mission is to be braver and quicker to react than bigger manufacturers. Enterprises like this project have the potential to build a virtuous circle. It's good for us, good for our partners and really good for the country."
The plan now is to progress P40 to a production-ready state, which will also bring Equipmake's motors and Delta's revolutionary turbine range extender to the point of production.
As a result, P40 is cast in the vital role of test bed, technology demonstrator and first user of UK tech, rather than simply a £200,000-plus option for well-heeled lovers of high-performance cars.
The two-seater P40 is about the same size and height as a Lotus Evora but with far larger wheels, tyres and brakes to cope with its huge power and torque — the rear tyres are 325/30 Pirellis running on 21in wheels.
The car sits a couple of inches higher than most mid-engined models mainly due to the 150mm-thick battery on its underside and in a central cockpit spine. The need for battery space also gives the P40 a slightly longer wheelbase than other pure two-seaters.
Here, comparisons with the Lotus stop. The P40's body architecture is distinctly cab-rearward, mainly because the car doesn't actually have an engine, so to a large extent its creators can put things where they like.
The chassis is a folded aluminium sheet, riveted and bonded to form a monocoque tub. Extruded aluminium subframes bolt to the front and rear of the tub in order to carry the suspension and most of the mechanicals.
The suspension is independent and all-new, with its race-bred double-unequal-length wishbones milled from billet. The brakes are AP Racing grooved and ventilated discs with six-piston calipers in front and four-pots behind.
In the flagship 4x4, each wheel has a compact, disc-shaped Equipmake motor, with integral epicyclic gearbox and its own inverter mounted above, sited inboard to drive it individually via a short axle.
Above the rear motors and inverters sits the compact range extender turbine, which drives a 35kW generator at 120,000rpm when required. The body design is still being developed, but our sketches accurately show a lot of aerodynamic addenda to build stability and downforce while keeping drag under control.
Aero work has so far focused on providing an air supply for the range extender turbine and the multiple fans and coolant pumps needed by the battery, inverters, electric motors and brakes. Inside, Saunders is going for a style he calls "plush Le Mans car".
Decor will be durable and businesslike; there won't be much in the way of leather and burr walnut. Equipment such as adjustable seats and air conditioning will be offered, and customers will choose from a wide variety of colours and textures.
With the new car in production, Ariel expects to make "300 cars or fewer" every year. The company plans to build on an already unique brand of personal service, selling directly to customers and tailoring cars for them very closely at a new Somerset factory the company will open before P40's launch.
Saunders particularly admires the Italian supercar firm Pagani, which doesn't have the manpower for lots of external promotion but makes a fuss of its customers. "Britain doesn't have a Pagani," said Saunders."I reckon it is our role model."
The production-ready car will be finished in 2019. At that stage grant assistance will stop but work will continue. Saunders wants to be selling P40s from his new factory in Somerset in 2020. For further details of the revolutionary Ariel P40 project check out this week's Autocar magazine, on sale now.