Destino's VL Automotive merges with GreenTech Automotive

Autoblog
06/05/2014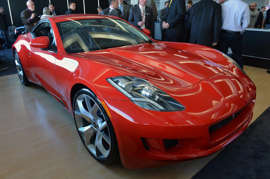 Here's a twist to the Fisker/Destino/MyCar stories we didn't see coming. WM Greentech (WMGTA), the company behind the struggling-but-not-dead-yet MyCar, has merged with VL Automotive, the company that plans to take bodies from the Fisker Karma and repurpose them with a V8 engine. That car will now be part of GTA's new WM Destino brand.

That latter idea comes, in part, from former Chevy Volt booster Bob Lutz, who founded VL Automotive with Gilbert Villarreal, an automotive engineer and industrialist. Vilarreal will now become chief operating officer of WMGTA. In a statement, available below, Vilarreal said the merger will let WMGTA get busy making the Destino luxury and that, "I truly believe in the production of the GTA MyCar as a practical, electric transportation solution and an affordable fleet vehicle." The Destino, of course, is neither electric nor affordable. It is expected to cost around $180,000.

WMGTA thus has two brands. The GTA division will make practical little EVs like the MyCar. The WM division, on the other hand, "manufactures and distributes energy-efficient super sports cars with internal combustion engine." Now tell us, did you see that coming?