Volvo adds R-Design option to V60 Plug-in Hybrid

Autoblog
30/04/2014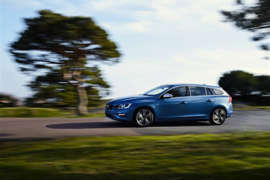 Lest anyone think Volvo's V60 Diesel Plug-in Hybrid is strictly for the leisurely, gas-sipping green-driver variety, the Swedish automaker is adding a sporty wrinkle. The R-Design package that Volvo added to some other models last year will now be an option for the V60 PHEV. Drag-racing surely awaits.

The sporty components for the V60 PHEV include 18-inch "Ixion" wheels and other stylish touches on the exterior, while the interior will include perforated leather seats and a black headliner. Mind you, the car does have some guts, as it includes a 215 horsepower, 2.4-liter turbodiesel engine powering the front wheels and a 68-horsepower electric motor driving the rear wheels. All that, and the car is said to get about 131 miles per gallon equivalent (per the more lenient European driving cycle) and go as far as 30 miles on pure electricity.

In late 2012, the Swedish automaker started production of what it said was the world's first diesel plug-in hybrid and the initial plan was to make about 1,000 units a year. Strong advance orders sped things up a bit, so much so that Volvo sold almost 8,000 of the V60 PHEVs last year. Last year, Volvo added the R-Design package for its S60, gas-powered V60 and XC60 models, which included, among other things, exterior improvements, profile-lowering and the Ixion wheels. Check out Volvo's press release below.