Mitsubishi L200 pick-up truck review – boldly going with less bounce than before

CAR
12/11/2018
If you're wondering what a review of the revised-for-2019 Mitsubishi L200 pick-up truck is doing on CAR (the clue is in the name etc), consider that the L200 – or Triton, as it's known in other parts of the world – is Mitsubishi's second-best selling vehicle globally.
Which means it's a big part of what helps this small (but prospering) brand pay the bills. Which in turn means that if you ever want to see Mitsubishi build an Evo again, you'd better hope this new L200 brings some decent chops to the table. Or building site. Whatever.
It doesn't reach UK shores until late summer next year – July or August 2019, most likely – but we've had a chance to try it already in Thailand, where it's built. Should you fancy this facelifted model?
Download the Microsoft News app for your Android or iPhone device and get news & live updates on the go.
Looks like the new 2019 Mitsubishi L200's had a collagen injection rather than Botox…
There's no mistaking the 2019 version, that's for sure. As mid-life makeovers go, this is a particularly extreme one – especially within the context of the typically conservative light commercial vehicle sector.
Almost every exterior panel is new. The front end is radically different – replacing the squishy generic-looking beak of the old model with an aggressive, angular appearance that fully embraces Mitsubishi's current Dynamic Shield design language – while the bluff, flat-paned wheelarches at the sides and the distinctive new lights at the rear substantially distance themselves from the one that went before as well.
The result is instantly arresting if not instantly attractive – it grows on you – and makes the L200 seem significantly more modern, at least from the outside.
Mitsubishi says the change was prompted by customer feedback – buyers wanted a more aggressive-looking truck, apparently – and that the facelift comes a little earlier than expected is a deliberate ploy to directly align the L200 with updated and all-new incoming rivals.
The initial launch in November 2018 also neatly corresponds with the L200's 40th anniversary; Mitsubishi has been building pick-ups since 1978. That's some heritage. The introduction of some extra safety kit and some modest engineering changes here should help with the celebrations.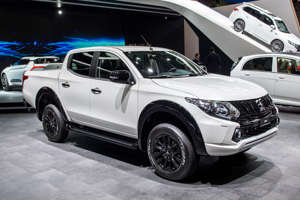 Is the 2019 L200 very different under the skin?
Not very, as such. But there are useful enhancements.
The additional safety equipment is stuff we've come to routinely expect on cars but remains relatively unusual in pick-up land: niceties such as autonomous emergency braking with pedestrian detection, rear cross-traffic alert, low-speed mis-acceleration mitigation, and blind-spot monitoring.
A considerable number of the pick-ups sold in the UK are so-called 'lifestyle' purchases, so it's about time this stuff started appearing more regularly. Safety in working vehicles is becoming an ever hotter topic in legal circles, too.
Beyond this, there are also upgrades to the four-wheel drive system – a new Off-Road mode giving a choice of terrain calibrations for maximum traction – bigger front brakes, a six-speed automatic transmission in place of the old five-speed unit, and bigger rear shock absorbers to improve ride comfort.
So it now drives just like a car?
Not quite...
Pick-ups in general remain one of the most unsophisticated driving experiences available this late in the second decade of the 21st century. That they're allow to travel at higher speeds than modern vans remains one of life's little mysteries (as most modern vans drive very nicely), and if you're considering one of these to replace a conventional SUV (let alone an actual car), then you'd better make sure you take an extensive test drive.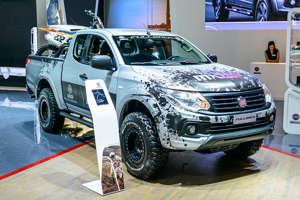 In the L200's case, you can expect slow steering, a long-winded manual gearshift action and a bumpy ride. However, once you get used to how much steering lock you need to apply you'll find the front end turns out to be pretty grippy and direct, the new six-speed auto is a welcome upgrade, and the new rear dampers do make a difference.
Some of the shudder and bounce of the previous model is definitely gone, and bad surfaces are certainly dealt with less abruptly – the extra fluid volume of greater-diameter dampers doing its job convincingly. As pick-ups go, this is now among the smoothest, even with Mitsubishi's continuing commitment to rear leaf springs (though if you want the best in this regard find the extra cash for the smooth-riding VW Amarok).
It's still not going to soothe away your ills like a proper decent passenger vehicle, but it's also unlikely to drive you utterly bonkers by constantly wobbling your brain around in your skull.
We won't commit to any firm statements about the body roll on this occasion, as the test route was not only largely straight and dual of carriageway, it was also undertaken motorcade-style with police motorcycle escort – largely as a means of protecting us from the local Thai traffic, which is basically insane. So larking about in rear-wheel drive mode in the corners will have to wait for another time. Think boaty but not too floaty, judging by the existing L200's efforts.
Riiiight. What's the new Mitsu L200 like off road?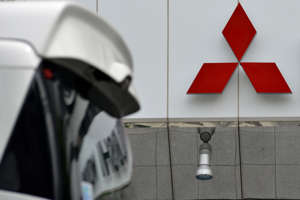 Ah, now you're talking. By contemporary standards, the L200 is a relatively compact and lightweight truck, with a good turning circle, and it's available with a proper four-wheel drive system that includes a centre diff and optional locking rear – it's always been good off road, even if you do have to watch out for the long rear overhang.
This is made easier now by the availability of an optional 360-degree bird's-eye camera system (dubbed Multi Around Monitor), which means you can spot most off-road obstacles and check clearances from the comfort of the cab; the button for this is conveniently located on the steering wheel, so you don't need to expend much effort to activate it, either. It's like a Ferrari manettino for pick-ups!
Already offered with high- and low-range gearing, the L200's new Off-Road mode adds bespoke torque, accelerator mapping and transmission settings for Gravel, Mud/Snow, Sand and Rock. Mitsubishi let us loose on a trio of off-road circuits, and we can confirm that in moderate use you're unlikely to get this thing stuck. The redesigned schnoz has moved all of the lights higher to keep them above the surface when wading through water, too, further improving usability.
We also rather liked the implementation of the new Hill Descent Control system – which is something the L200 has never had before. Instead of applying a particular set speed, as long as you're doing less than 12mph (its maximum for operation) when you commit to the drop, the HDC will maintain your existing velocity.
If that turns out to be too fast for comfort, you can use the brakes and the L200 will keep to this lowered speed instead. Again, this seems to work very well in practice. It's a simple, elegant solution that works.
You haven't made much mention of the L200's engines?
That's because although we were driving the current 178hp 2.4-litre turbodiesel engine in Thailand, as fitted in present UK L200s, Mitsubishi is refusing to confirm what engines the facelifted model will get when it arrives here in 2019.
This is entirely due to the forthcoming Euro 6D Temp emissions regulations, which the 2.4 doesn't yet meet. Seems Mitsubishi is still trying to decide whether to modify this engine (and potentially take a power and weight penalty) or use a different, likely downsized alternative.
Hopefully whatever happens, the new engines will be a little quieter…
You've also not said much about the L200's interior?
Ah, that's because there isn't so much to report. The design stays largely the same – though there are improved materials, extra soft-touch padding and some additional USB ports.
Rear-seat passengers benefit most from the changes. Two of the four USB ports turn up back there, while new handles on the B-pillars make getting in and out a little less launch and flop. A new roof-mounted ventilation system provides additional rear airflow, although it takes a little while to have any noticeable effect.
Verdict
Funnily enough, there aren't any UK prices for the 2019 L200 yet either – with no engine details and unconfirmed spec at this stage, you'll just have to wait a bit longer. The present L200 is one of the best value pick-ups on the market, however, and we fully expect this to still be the case at the end of next year.
With an improved drive, increased safety and dramatically different looks, it is undoubtedly more enticing than before. Given the cash we'd still rather an Amarok, but if you're looking for an all-rounder on what's likely to be a much more modest budget you could do far worse than this Mitsubishi – it's a very likeable pick-up.
Specs

Price: £24,500
Engine: TBC
Transmission: Six-speed manual or six-speed automatic, four-wheel drive
Performance: TBC
Weight: TBC/steel
Dimensions: 5250/1800/1800mm (est)
Gallery: 2019 Mitsubishi L200 / Triton Goes Official With Bold Design [motor1.com]