New Mercedes-AMG GLC 63 is here to scare your kids

CAR
05/04/2017
New Mercedes-AMG GLC 63 is here to scare your kids
© Bauer Media 2017
► Available in GLC or GLC Coupe form
► Even faster S version has 503bhp
► Confirmed for 2017 New York show
Mercedes' most extreme GLC model has finally arrived. It's called the Mercedes-AMG GLC 63 SUV and it's here to terrify your 2.4 children.
Like almost every current AMG car besides the A 45 and CLA 45, the new GLC 63 is powered by the evergreen and frankly brilliant 4.0-litre bi-turbo V8. There are two versions available: the standard GLC 63 has 469bhp, while the S version gets an extra kick with 503bhp. Although 0-62mph launch times aren't known yet, the 63 will easily hit its limited top speed of 155mph.
A hefty portion of the GLC 63's innards come from the blistering E 63 saloon; namely the 4MATIC+ four-wheel drive system, sports-biased nine-speed automatic and the AMG Dynamic Select system. The 4MATIC+ four-wheel drive system is variable, so power can be shifted to either axle if it detects slip, and the new nine-speed transmission will happily make quick multiple downshifts if needed. Standard air suspension should help keep the 63 as level as possible around fast bends, too.
If you opt for the S model, the drive select has an additional Race mode, just in case you fancy thrashing your Affalterbach-fettled SUV for a quick time at the 'Ring.
Like other AMG cars, the GLC 63 can also be had with an optional adaptive exhaust system that regulates how loud that thunderous V8 barks; something that your neighbours will surely appreciate of a morning.
If the V8 noise won't make passers-by realise how serious your car is, its looks certainly will. In classic AMG form, the body is beefed up and four exhausts complement the rear bumper. What's truly new is the use of AMG's 'Panamericana' grille: it was something reserved for the range of AMG GT sports cars up until now. Inside, Merc's ARTICO artificial leather is used on the seats in the standard car while the punchier S has seats trimmed in Nappa leather.
If practicality isn't your thing, there's also a GLC 63 Coupe version on offer. It's given the full AMG treatment, just like its bigger-bottomed sibling and comes in both standard and S trims, too.
To top it all off, an Edition 1 flagship will be available at launch for a limited time, with grey or yellow detailing on the body and carbon fibre trim and yellow detailing inside.
The new GLC 63 will make its public debut at the 2017 New York Motor Show this month and will go on sale in summer 2017.
Hammer time: are these the best AMG cars of all-time?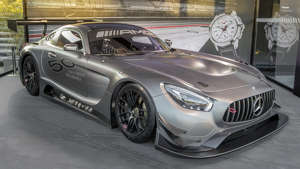 Hammer time: are these the best AMG cars of all-time?