SEAT Leon vs Volkswagen Golf vs Vauxhall Astra

Auto Express
05/05/2017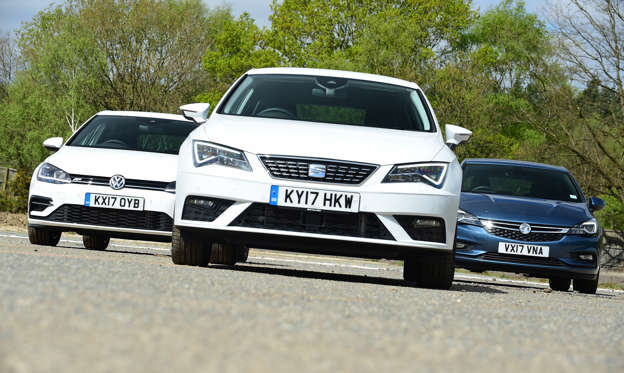 Leon v Golf v Astra
The facelifted SEAT Leon has a hard act to follow. Its predecessor was a multiple victor at our New Car Awards, taking the Best Compact Family Car crown three times in a row. However, the tweaks to the 2017 five-door Leon are only minor, so SEAT hasn't altered the recipe too much.
This means it should still offer what you want from a family hatch, with plenty of space, decent driving dynamics and strong efficiency, only there's now more tech in the mix. However, one of its closest rivals, the Volkswagen Golf, has also been updated recently, and it too is sporting more tech, thanks to a smarter infotainment system, plenty of practicality and a strong engine.
Diesel might be a dirty word these days, but sales of oil-burning hatchbacks like those we're testing here still make up a massive proportion of the market. And our current family favourite, the Vauxhall Astra, will also take some beating.
This sector spans all kinds of owner, from private buyers to business users, so the outcome will be one of the most important of the year. Which car will emerge victorious?
Click through to the next page to read review...
SEAT Leon
| | |
| --- | --- |
| Model: | SEAT Leon 2.0 TDI 150 Xcellence Technology |
| Price:  | £23,830 |
| Engine: | 2.0-litre 4cyl turbo-diesel, 148bhp  |
| 0-60mph: | 8.4 seconds |
| Test economy:  | 38.0mpg/8.4mpl  |
| CO2:  | 112g/km  |
| Annual road tax:  | £140 |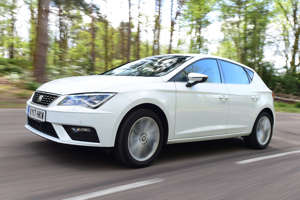 SEAT Leon Updates to the SEAT Leon are fairly minor, although the Xcellence Technology trim tested here is a new addition to the range. It offers a decent level of standard kit, and combined with the 2.0-litre TDI engine and manual box, it costs £23,830.
The Leon uses the same 148bhp 2.0-litre turbo-diesel and six-speed manual gearbox as the Golf. It's a refined engine that revs smoothly without emitting too much of a diesel grumble from under the bonnet. Only at higher revs does it get a little coarse.
There's plenty of performance on offer too, with 340Nm of torque from 1,750rpm. If you're in the wrong gear you can just catch the engine off the turbo, where it understandably feels flat. But from here the torque ramps up smoothly. It delivered decent in-gear performance on test, outsprinting the Golf in every gear, although it couldn't match the Astra.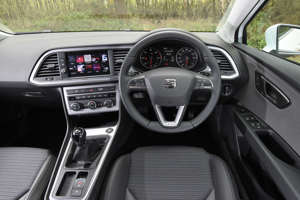 SEAT Leon The Leon's grunt is more than adequate, though, and in very few situations on the road will you want for more performance. It's nice to drive, too. The steering is direct, the six-speed manual has an easy but reassuringly mechanical shift action and the dampers deal with most surfaces well. On crowned roads, over surface changes and potholes the Leon can lumber along a little, with jolts felt through individual corners of the car, but it's calm and relaxed most of the time.
That steering and a good level of grip means it handles well, too. However, the Leon's XDS torque vectoring system on the front axle is very aggressive. It doesn't cut in smoothly and you can hear the system clicking in, and although it helps give the front tyres more bite coming out of corners, it feels as if the car is fighting itself quite noticeably. 
Testers' notes: "The updates to the Leon are minimal, but the hot Cupra has been thoroughly reworked. Power rises to 296bhp, while the ST estate version can be had with four-wheel drive."
Volkswagen Golf
| | |
| --- | --- |
| Model: | Volkswagen Golf 2.0 TDI 150 SE Nav |
| Price:  | £23,465 |
| Engine: | 2.0-litre 4cyl turbo-diesel, 148bhp  |
| 0-60mph: | 8.2 seconds |
| Test economy:  | 46.5mpg/10.2mpl  |
| CO2:  | 109g/km |
| Annual road tax:  | £140 |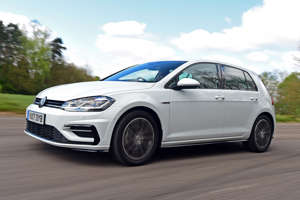 VW Golf Like the Leon, the new Volkswagen Golf is essentially an update of its predecessor. Yet the brand left no stone unturned in its efforts to improve the car's competitiveness, with the result that it took a well-earned victory on its road test debut. However, that was the entry-level 1.0-litre petrol; can the Golf repeat the feat in £23,465 2.0 TDI SE Navigaton trim test here?
Not only does the new Golf look similar, it also drives in very much the same way. You get a desirable package that blends refinement and composure.
That's not to say there haven't been any changes. The 2.0-litre TDI is lightly tweaked, so it delivers a decent blend of performance, refinement and frugality. Yet despite being identical to the unit used in the Leon, the VW actually trailed its Spanish twin during our in-gear assessments. For instance, it covered the sixth-gear 50-70mph dash in 9.7 seconds, which was three-tenths slower than the SEAT. Only on the 0-60mph sprint was the VW quicker, beating the Leon by two-tenths at 8.2 seconds.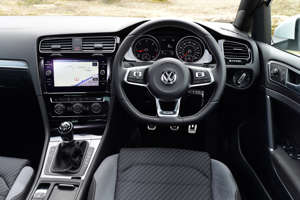 VW Golf On the road, these differences are hard to detect, and with 340Nm of torque at just 1,750rpm, the Golf delivers muscular real-world pace. You don't need to work the engine hard to make decent progress, but even when extended, the 2.0-litre isn't as gruff and strained as the smaller unit used in the Astra.
The positives continue when you enter a series of corners, where the Golf responds swiftly to the direct and well-weighted steering. There's also bags of grip and rock-solid body control, which make the VW a confidence-inspiring machine. Better still, this agility is matched to impressive refinement . It's not as entertaining as the Vauxhall, but it delivers a good blend of poise and comfort.
Testers' notes: "The 2.0-litre diesel tested here is a strong performer and delivers excellent economy, but we'd save £3,000 and go for the new 1.0 TSI instead. The refined unit is better suited." 
Vauxhall Astra
| | |
| --- | --- |
| Model: | Vauxhall Astra 1.6 CDTi BiTurbo SRi Nav |
| Price:  | £23,315 |
| Engine: | 1.6-litre 4cyl turbodiesel, 158bhp  |
| 0-60mph: | 7.8 seconds |
| Test economy:  | 48.3mpg/10.6mpl  |
| CO2:  | 109g/km |
| Annual road tax:  | £140 |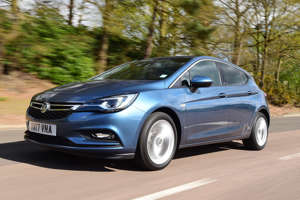 Vauxhall Astra The Vauxhall Astra was reinvented for this seventh generation, and it edged ahead of its rivals to take the compact family hatch honours in our 2016 New Car Awards ceremony in the process. It's beaten the best in popular diesel form and in 1.0-litre turbo guise, but can it maintain its advantage against more powerful diesel rivals? To find out we test it with the firm's 1.6 CDTi BiTurbo in £23,815 SRi Nav trim.
The Astra's 1.6 CDTi diesel is the smallest unit here, but it uses a pair of turbochargers, so the four-cylinder unit punches well above its weight. With 158bhp and 350Nm, the Vauxhall has a comfortable power and torque advantage over its rivals here.
As a result, the Astra was the fastest on track, accelerating from 0-60mph in 7.8 seconds, which was four-tenths up on the Leon. The Vauxhall rammed home its advantage during our in-gear tests, where it was comfortably the fastest over all increments.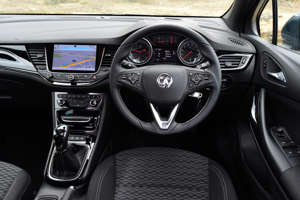 Vauxhall Astra This energetic straight-line display is backed up by impressive poise through a series of corners. The steering is direct and well weighted, there's bags of front-end grip and the car feels like it pivots around your hips, helping to create a strong feeling of agility.
This urges you to push a little harder, as the Astra can easily take the extra speed. It also remains comfortable and composed, encouraging  you to carry more momentum through bends. And despite its less sophisticated rear suspension, excellent damping means it feels secure and well tied down.
Factor in the composed ride, and the Astra is the most dynamically accomplished car here. It floats effectively over the road surface, offering enough compliance to tune out the majority of nasty bumps.
It's not quite as refined as the Golf, though, and that's largely down to the engine. While it's a strong performer, the BiTurbo unit sounds gruff at low revs and is intrusive when worked hard – although its strong torque means you don't have to do this often. 
Testers' notes: "Like the SEAT and VW, the Astra is also available as an estate. The Sport Tourer offers handy features, but its 540-litre capacity is about 100 litres down on its rivals'." 
Verdict 
First place: Vauxhall Astra
It was close, but in the final reckoning the Astra does just enough to take the spoils. Not only is it the fastest and most fun to drive, it also delivered the best economy and lowest running costs. SRi Nav trim offers all the key kit, including the excellent OnStar service. Points are lost for the grumbly engine and smaller boot, but the Astra is a swift and engaging diesel hatchback. 
Second place: Volkswagen Golf
The latest Golf is a polished, poised and perfectly packaged family car. What it lacks in style in this contest it makes up for with substance and premium finish, while kit such as adaptive cruise adds to its appeal. The 2.0-litre TDI is also a smooth and punchy performer. But it's not the best engine in the Golf range; the cheaper 1.0 TSI or 1.6 TDI versions make more sense. 
Third place: SEAT Leon
It's an indication of the strength of the compact hatch class that the Leon finishes third. It's handsome, practical and well equipped, but the facelift is so mild that it's almost impossible to tell it apart from its predecessor. The SEAT also can't match the infotainment systems of its rivals, while its residuals are the weakest here. As with the Golf, smaller engines are a better fit. 
Other options in this category...
Renault Megane 1.6 dCi GT Line Nav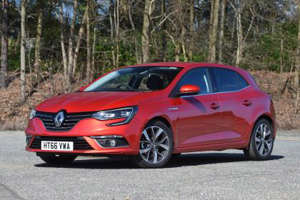 Price: £22,200
Engine: 1.6-litre 4cyl, 128bhp
The Renault can't match its rivals here for performance, but the Megane brisk enough and has them beaten for comfort. GT Line trim brings sporty looks and plenty of kit, but do add the £300 8.7-inch portait R-Link2 Infotainment system.
Mazda 3 2.2 D 150 Sport Nav
Price: £23,495
Engine: 2.2-litre 4cyl, 148bhp
Recently revised Mazda 3 has the Astra covered for driver fun, while its large capacity diesel is fast and frugal. The cabin and boot are a little cramped in this company, but solid quality and a long kit list boost its showroom appeal.
| | | | |
| --- | --- | --- | --- |
| | Vauxhall Astra  1.6 CDTi BiTurbo SRi Nav | Volkswagen Golf 2.0 TDI 150 SE Navigation | SEAT Leon 2.0 TDI 150 Xcellence Tech |
| On the road price/total as tested | £23,315/£25,620 | £23,465/£23,465 | £23,830/£24,195 |
| Residual value (after 3yrs/36,000) | £9,531/40.9% | £10,979/46.8% | £8,357/35.1% |
| Depreciation | £13,784 | £12,486 | £15,473 |
| Annual tax liability std/higher rate | £1,064/£2,127 | £1,070/£2,141 | £1,134/£2,267 |
| Annual fuel cost (12k/20k miles) | £1,358/£2,263 | £1,410/£2,350 | £1,726/£2,876 |
| Ins. group/quote/cost | 18/£705/£140 | 18/£761/£140 | 21/£776/£140 |
| Cost of 1st/2nd/3rd service | £583 (3yrs/30k) | £288 (2yrs) | £498 (3yrs/30k) |
| | | | |
| Length/wheelbase | 4,370/2,662mm | 4,258/2,620mm | 4,282/2,636mm |
| Height/width | 1,485/1,809mm | 1,492/1,799mm | 1,459/1,816mm |
| Engine | 4cyl in-line/1,598cc | 4cyl in-line/1,968cc | 4cyl in-line/1,968cc |
| Peak power/revs | 158/4,000 bhp/rpm | 148/3,500 bhp/rpm | 148/3,500 bhp/rpm |
| Peak torque/revs | 350/1,500 Nm/rpm | 340/1,750 Nm/rpm | 340/1,750 Nm/rpm |
| Transmission | 6-spd man/fwd | 6-spd man/fwd | 6-spd man/fwd |
| Fuel tank capacity/spare wheel | 48 litres/foam | 50 litres/foam | 50 litres/foam |
| Boot capacity (seats up/down) | 370/1,210 litres | 380/1,270 litres | 380/1,210 litres |
| Kerbweight/payload/towing weight | 1,303/607/1,700kg | 1,366/564/1,600kg | 1,305/515/1,800kg |
| Turning circle/drag coefficient | 11.1 metres/0.29Cd | 10.9 metres/N/A | 10.3 metres/N/A |
| Basic warranty (miles)/recovery | 3yrs (60k)/1yr | 3yrs (60k)/1yr | 3yrs (60k)/2yrs |
| Service intervals/UK dealers | 20k miles (1yr)/338 | Variable/223 | Variable/128 |
| Driver Power manufacturer/dealer pos | 25th/22nd | 24th/28th | 18th/31st |
| NCAP: Adult/child/ped./assist/stars | 86/84/83/75/5 (2015) | 94/89/65/71/5 (2012) | 94/92/70/71/5 (2012) |
| | | | |
| 0-60/30-70mph | 7.8/6.6 secs | 8.2/7.0 secs | 8.4/6.8 secs |
| 30-50mph in 3rd/4th | 3.0/4.3 secs | 3.2/5.6 secs | 3.0/5.4 secs |
| 50-70mph in 5th/6th | 5.6/7.2 secs | 7.1/9.7 secs | 6.7/9.4 secs |
| Top speed/rpm at 70mph | 137mph/2,000rpm | 134mph/1,800rpm | 134mph/1,800rpm |
| Braking 70-0/60-0/30-0mph | 44.6/37.6/8.7m | 46.5/34.2/9.8m | 47.0/38.1/9.4m |
| Noise outside/idle/30/70mph | 70/54/63/73dB | 73/53/63/72dB | 73/53/63/71dB |
| Auto Express econ (mpg/mpl)/range | 48.3/10.6/510 miles | 46.5/10.2/511 miles | 38.0/8.4/418 miles |
| Govt urban/extra-urban/combined | 55.4/78.5/68.9mpg | 56.5/76.3/67.3mpg | 53.3/72.4/64.2mpg |
| Govt urban/extra-urban/combined | 12.2/17.3/14.8mpl | 12.4/16.8/14.8mpl | 11.7/15.9/14.1mpl |
| Actual/claimed CO2/tax bracket | 157/109g/km/23% | 163/109g/km/23% | 199/112g/km/24% |
| | | | |
| Airbags/Isofix/park sensors/camera | Six/y/£460/£615* | Seven/yes/yes/£265 | Seven/yes/yes/£220 |
| Auto/stability/cruise control/AEB | No/yes/yes/yes | £1,415/yes/yes/yes | No/yes/yes/yes |
| Climate ctrl/leather/heated seats | £405/no/£355 | £415/£2,115/£400 | Yes/£1,370/£365 |
| Met paint/LED lights/keyless go | £555/£1,250/£405 | £570/£975/£365 | £575/yes/yes |
| Sat-nav/USB/DAB/Bluetooth | Yes/yes/yes/yes | Yes/yes/yes/yes | Yes/yes/yes/yes |