The new Discovery's toughest test: Q7 vs X5 vs XC90

CAR
19/05/2017
The new Discovery's toughest test: Q7 vs X5 vs XC90
© Bauer Media 2017
► Land Rover Discovery group test
► New Disco vs Q7, X5, XC90
► Which premium family SUV wins?
Do-anything, go-anywhere and hugely desirable, the posh 
seven-seat SUV is the definitive 21st-century family wagon. But is 
the vaunted new Discovery the definitive posh seven-seat SUV?
We pit it against its toughest premium rivals: the still-quite-new Audi Q7, ageing gracefully BMW X5 and more Scandinavian take on the sector, Volvo's XC90.
Read on for the detailed CAR magazine verdict on all our posh SUVs.
Land Rover Discovery: middle England expects
Stop the new Land Rover Discovery and tell your four adult passengers to get out. Now open the tailgate, remove their two heavy suitcases and drive away. Feel the difference? That payload – around 350kg – is the claimed weight saving over a like-for-like previous-generation Td6 Discovery, despite the new car being slightly longer.
Yet behind the wheel, the fifth-gen model immediately feels plumper than its group-test rivals: Audi Q7, BMW X5, Volvo XC90. And it is, in every case. That mass, together with comfort-focused chassis tuning, contributes to an unrushed composure and aura of relaxation the others simply can't match. But it does mean we can rule the Discovery out of the dynamic equation at the first roundabout. 
The Discovery might be based on the same D7 aluminium-intensive underpants as the Range Rover and Range Sport but the Disco lacks its upper-crust siblings' torque-vectoring and anti-roll control technology.
It rolls, its stability control works overtime to snuff out understeer, and it feels like an awful lot of mass to control if a tightening corner catches you napping (the headrests do have airplane-seat-style fold-out corners to catch your head, though). Tidier than the previous model, yes, but all the rivals handle more neatly. Yet in normal day-to-day driving, the Discovery is immensely satisfying.
How much is the Land Rover Discovery?
We're testing it in top-ranking HSE Luxury spec, which pumps the base model's £50,995 to £64,195, making it the priciest car on test. Highlights include 21-inch alloys, Meridian audio and the Terrain Response 2 system, which automatically adapts drive settings to the prevailing surface. A further £12k of options hoist this car to a very Range Rover-like £76k.
You climb up into a command driving position, sinking into standard Windsor leather armchairs that massage your lower back, Td6 engine chugging gently like an athlete's resting pulse; it's a calming, reassuring feeling, like you're ready to embark on adventures entire continents away – or just take the kids to school in inclement weather.
Behind you, the Discovery's largely flat floor provides so much room for second-row occupants they can almost wander about. You fold those seats flat either with one-touch switches in the tailgate or just inside the rear door jambs, or via either the infotainment system (much improved these days, if sometimes laggier than the others) or smartphone app. Then two more full-sizers can climb into the rear seats without feeling squashed, thanks partly to the trademark stepped roof. It explains why the Discovery appears to have an escape pod from the International Space Station grafted to its hindquarters.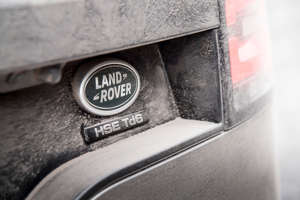 Through town, the air suspension (coils come later for lesser specs) smothers road-surface ripples like a steam-iron hissing over a crumpled shirt; bound over an unpaved road and that composure continues, the wheels being battered about like a boxer's speed bag while the body and occupants within glide serenely along. The other SUVs, by varying degrees, jar considerably more. Shame the Disco's steering is stodgy compared to a Range Sport's, which twirls with a defter lightness.
Four-cylinder turbo-diesels are available, with the 237bhp/ 369lb ft Ingenium boosting the weight saving to 480kg versus an old TdV6. I'm yet to drive one, but it's hard to imagine it knocking the six for six. With an on-the-pace 254bhp and equal-best-here 443lb ft, the V6 is smooth and wafts you up to speed effortlessly if less vigorously than either the BMW or Audi. While vocal at higher revs, it never sounds rattled. The extra weight doesn't help performance or efficiency, though: 8.1sec to 62mph is tardy, while every rival betters its 39.2mpg by at least 8mpg.
But the opposition are left lagging when it comes to off-road ability: optional two-speed transfer case, the drive modes that'll adapt to anything, even a full-size spare. You may never need it to, but the Discovery can wade through 900mm of water like it's strolling through a paddling pool, or climb a rock face that'd have you cartwheeling to your death if you stepped from the door.
If you want the most versatile, most comfortable seven-seat SUV going – and you're prepared to keep progress stately rather than spirited – it looks like you might need a Discovery…
BMW X5: Munich's SUV gateway drug
When it launched the X5 in 1999, BMW stamped its ultimate driving machine authority all over the SUV segment. At a time when a Freelander was so wallowy its driver could get his knee down with the bikers, the X5 completely changed our expectations of how an SUV could handle.
Eighteen years and three generations later, the model that launched in 2013 is the oldest car here, its wrinkliness compounded by carrying over the second-generation platform. But still it leads the pack when you drive hard over sinuous B-roads. Body control is superb, amplifying the sense of accuracy from the quick, precise steering. xDrive combines a rear-drive feel with gluey traction to generate more squeals from passengers than tyres as it hauls out of corners.
Try to hang onto the X5 in the Discovery and you'd be going Ray Mears even if the nav was set for a Peterborough business park. The Audi and Volvo get closer, but feel more front-biased and rollier.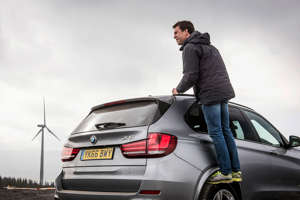 You can get your X5 with a four-cylinder turbo diesel and even rear-wheel drive in 25d trim, which starts from £47k. But our test car comes in 3.0d M Sport specification, yours for £56,245. To this car's basic price, BMW has added £13k of options – £2.5k adaptive suspension, £1.3k panoramic roof, £2k Pure Excellence design package and the £1k head-up display are the biggies – taking the final price to £69,285.
At 254bhp and 413lb ft, the BMW six-cylinder concedes 14bhp/30lb ft to the Audi, but it's a very sweet unit. In fact, if the powertrain and chassis were on Tinder, they'd be at it in seconds so nicely are they matched. The 3.0-litre straight six's juicy surge of torque kicks in from just over 1500rpm and fires you down the road like a pinged elastic band, and feels especially satisfying when you select Sport to pep up the throttle response (thankfully, you can opt to de-select the firmer suspension and steering for a more fluid feeling).
Likewise, the eight-speed auto is the punchiest, most direct unit on test, its auto mapping bang on cue, the metal paddleshifters chunkily satisfying to manually click. If driving dynamics are top of your SUV shopping list, there's no doubt the X5 leads this pack. Yet both BMW and Audi come surprisingly close to the Swede's four-cylinder efficiency at around 48mpg and 155g/km CO2.
At 4886mm long, the X5 is the most compact SUV here by at least 64mm. So if you do spec your X5 with optional third-row seating, it's going to be tight back there; imagine a 911 limousine with an extra row of full-size seats in the middle.
And because this car rides on firmer M Sport coil suspension – albeit with those adaptive dampers that can be softened or hardened, and smallest-on-test 19-inch rims – it is the most fidgety, least comfort-focused ride in the group. Far from unbearable, it is at odds with gentle family swanning about, which may or may not appeal.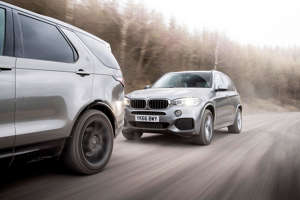 You could always opt for the softer, slightly cheaper SE, though, and whichever spec you choose, the X5 is still a very satisfying place to be: the £475 Comfort seats are superb, the supple leather giving a little as you sink into them, and its infotainment is top-of-the-class. You can control the screen via the iDrive rotary controller or prod at the touchscreen itself; it's a slick, intuitive, highly responsive system, one that requires less eyes-off-the-road time than the others.
When it comes to tyres-off-the-road, the X5 ploughs a similar furrow to all our contenders bar the Discovery, giving you basics like Hill Descent Control but still wearing road-focused rubber. It's enough for more than most people will throw at it – but then so is a Ford Fusion – with BMW playing to the fact that a large chunk of buyers like an SUV look and driving position and don't actually want to get muddy.
That the BMW is the least practical for seven and the best to drive for one may be equally confounding for the I-buy-'em-to-off-road-and-tow traditional SUV buyer, but that doesn't mean the X5 isn't very, very good.
Audi Q7: quite possibly the best car Audi makes
If one car most literally translates the Sports Utility Vehicle tag, it's the Audi. The Q7 hits the sweet spot of dynamics, versatility and comfort like the intersection on a Venn diagram. But if you have to pick one area where the Q7 really excels in this company, it's the interior with its peerless fit, finish and quality: the swathes of brushed aluminium trim, the knurled rotary dials that click as they're twirled like an expensive watch mechanism, and how all those lean, taut contours butt up together so perfectly.
Seven seats come as standard. Our car gets sports seats with black alcantara centres and a nice balance of long-distance comfort and support. The second row features three individual seats, all of which offer plenty of knee acreage and can slide and recline.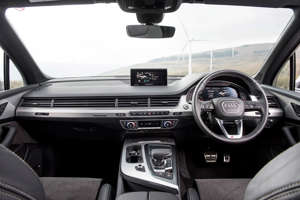 You can fold that second row flat and roll it out of the way with the pull of a couple of handles to access the third row, which pops up by pressing buttons that are either accessible when you open the rear doors, or via another set just inside the boot. Unlike the Discovery you need to hold the switches for the duration – you'll probably manually sort the Volvo's rear bench faster – and if you put two adults back there they'll be curled up small and glaring at you like a pair of cats travelling to the vet. But the Audi does boast six Isofix anchors – the Discovery musters five – meaning you can breed so rampantly that your partner must travel on a separate tour bus.
Where Vorsprung durch Technik once highlighted Audi's mechanical nous, today it's equally relevant to microchips and sensors. Our car gets the £2k Technology Package, which includes Virtual Cockpit – a digital instrument binnacle that can be configured to show a full-size sat-nav map – and head-up display to give the BMW a run for its money.
MMI infotainment is standard, and you control it with a rotary controller or the touchpad that lets you scrawl child-like characters, both ideas similar to the BMW. I prefer the BMW operating logic, find myself looking away from the road less, but there's no doubting the Audi is packed with state-of-the-art kit and works very well. Virtual Cockpit in particular still leaves the opposition napping. 
All UK Q7s except the hybrid e-tron are V6 diesels. While the entry-level 215bhp 3.0-litre V6 is a recent introduction at a whisker under £50k, we've got the 268bhp version, which costs from £54,720, bulked up here to £67k with options including all-wheel steering, matrix LED headlights and electrically deployable towbar.
The V6 is similarly impressive to the BMW's straight-six if even more muscular with its tidal 443lb ft that sweeps in from just 1500rpm, but the Audi stays smoother for longer, roaring quite tunefully – for a diesel – beyond 4000rpm where vibration creeps in for the X5. The Volvo clatters much more discordantly, the Disco is impressively smooth if blunted a little by its extra mass.
The Audi's eight-speed gearbox doesn't have quite the energy of the BMW's when it comes to banging home shifts, but it's smooth and quick, adeptly second-guessing your intentions in its auto modes nonetheless.
Audi Q7: the Dynamic Pack spec
The Q7 gets air suspension as part of the £2.6k Dynamic pack (which also includes driver-assistance kit like active-lane assist and traffic-jam recognition), giving the option to raise the ride height by up to 60mm over standard for extra ground clearance. It also helps to level out heavier towing loads. So while once again it can't match the Discovery for romping off into uncharted territory, you've got ample hardware to clamber out of most situations.
On road, Q7 bests the Volvo both in terms of comfort and dynamics, and strikes a middle ground between the BMW and Land Rover chassis. It feels more supple but ultimately less agile than the BMW due to its more pronounced body roll, if less supple but more agile than the Discovery. The pretty significant 325kg weight saving over the previous generation certainly helps.
You'll need the £72k V8 turbo diesel SQ7 to go X5 chasing, but for high-tech, family-friendly driving with the occasional squirt of B-road abandon or off-road adventure, you'll struggle to find a better all-rounder than a Q7.
Volvo XC90: Swede chariot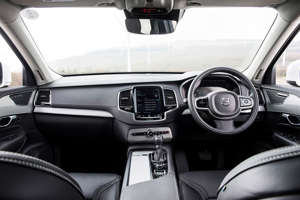 Best-looking car on test? It's got to be the Volvo XC90. Not only is it unmistakeably Volvo with its strong shoulder line and slender rear lights that flow down like icicles, it's also desirable in a uniquely Scandinavian way, 'strong without being aggressive' as Volvo brand design director Pär Heyden once succinctly put it.
It makes the Discovery look unbalanced and clunky, despite the Volvo being only 20mm shorter at 4950mm long, and the X5 and Q7 disappointingly anodyne. The simplicity with which you access its standard third-row seating also makes the Discovery's weighty electrical mechanisms seem redundant. You just pull up a handle on the shoulder of the second row to slide it forward – the row also slides and reclines forwards and back so passengers can set the perfect seating position – and then you pull another lever on the folded third row to make them stand to attention. There's even room for adults back there, with more space than the Audi's third row.
Up front, it's a more car-like experience than the perched-on-high Discovery. The nappa leather seats in this second-from-top Inscription model – at £52,500 it's £4k pricier than the base Momentum, and boosted by just £3k with options – are snugly comfortable, and there's an elegant simplicity to the layout: the nine-inch touchscreen that tidies up all but essential buttons (volume, window demisters), the clean strokes of architecture. It reduces visual noise, allowing touches like the textured metal trim, diamond-cut drive-mode controller and Swedish flag on the seats to really sing.
Shame the steering wheel looks injection-moulded in one solid piece like a Fisher-Price pedal car, and the touchscreen logic is a little muddled in places (cancel the route guidance and you're asked if you're sure with an 'okay' or an easily confused 'cancel', which cancels your request to cancel), but mostly it feels satisfyingly upmarket.
While the Discovery and BMW – but not the Audi – can also be had with four-cylinder diesels, the Volvo is offered only with a four-cylinder line-up. The D5 we're testing produces an only slightly off-the-pace 232bhp but is at least 59lb ft down on everything else at 354lb ft. You'll need the £61,650 T8 petrol-electric plug-in hybrid to make up the torque deficit.
Fire up the engine and you might crave a bit of hybrid silence: at idle, the four-cylinder clatters like chattering teeth after a plunge into a frozen lake. Volvo has made a valiant attempt at quietening it down on the go and the performance is keen, with ample mid-range punch, but there's no mistaking this is the least refined, most torque-lite engine. Thankfully the gearbox is smooth and keeps you in the powerband, but it's the only car here not to offer paddleshift controls.
How to spec your Volvo XC90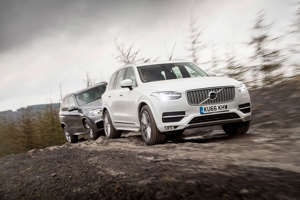 Air suspension is available, but our car rides on coil springs front, unusual transverse composite leaf springs rear; it's a mixed bag dynamically, making potholes feel like sink holes, and without a correspondingly sporty pay-off. In fact, while it's fine for motorways, the body feels surprisingly wayward during a gentle B-road drive, rocking about like a late penguin and spoiling the cabin's sense of calm. The Volvo is, however, much more agile and car-like than the Discovery, if not quite as up-for-it as the Germans.
Volvo's Scandinavian heritage theoretically gives it permission to chase a Discovery off-road into the Arctic wastes, but the XC90 is less ambitious. There is an off-road setting, you do get Hill Descent Control, and the road-biased  tyres do a fine job of on any farm track or unpaved road you're ever likely to encounter. Need more than that and you need a Discovery.
But for the rest of us, the XC90 feels like a proper Swedish army knife of an SUV. The chassis could be sweeter, the four-cylinder engine smoother, but as an all-round family wagon and object of automotive desire, the XC90 holds an awful lot of appeal.
Verdict: king of the hill?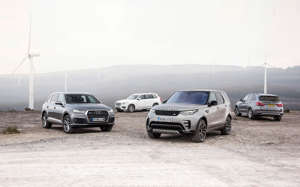 After two days' testing, the victory is anything but decisive. Each car is satisfying to own, each flawed in its own way, each with its own slant on the SUV; there are no big mistakes for a buyer to make here, no landmines.
If you want the best driver's SUV, there's no doubting the BMW takes top honours, but that gives it a correspondingly narrower focus. It's less comfortable and practical than its rivals. The XC90 is deeply impressive, from its hugely desirable design to the comfort and versatility of its seven-seat cabin. That spaciousness is in part liberated by using only more compact four-cylinder engines, a bold decision, but the others offer greater, smoother performance and – in the case of the Germans – barely inferior mpg and CO2 figures. The standard chassis also needs more polish for both comfort and dynamics, though it's far from poor.
That leaves a straight fight between Audi Q7 and Land Rover Discovery. Prioritise the most spacious, comfortable and versatile off-roader and there's no question you need the Discovery. Nothing else here smothers road imperfections or cossets seven adults so luxuriously. That its off-road prowess is on another level may also seal the deal. But its weight does make it feel more lethargic than the fleeter Germans, and it loses out by a big margin dynamically.
The Audi can't compete with the Discovery's spaciousness – its third row is very cramped, and a part-time solution only – nor its off-road capability, nor the absolute comfort of its chassis. That it looks so anonymous is also disappointing. But the Q7 succeeds in striking a very appealing all-round balance. The optional air suspension on our car offers a great compromise between comfort and driver entertainment; its V6 turbodiesel feels the strongest and smoothest on test; the interior is a masterclass, and its technology is cutting edge.
Whether Audi or Land Rover best fits your life is a call only you can make. Me? I'm voting Audi.