VW T-Roc R (2018) scooped: a hot hatch on stilts

CAR
25/09/2017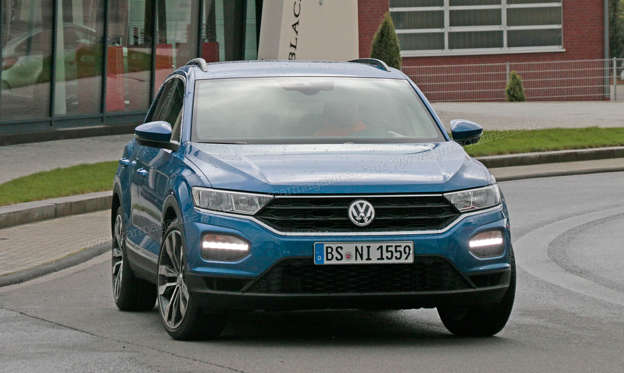 ► VW T-Roc R scooped
► New pics confirm fast SUV
► Expect it on sale in 2018 
These new pictures confirm that it's not just EVs that float their boats in Wolfsburg these days: performance cars still matter, and here's proof a VW T-Roc R is on the way.
Essentially a VW Golf R on stilts, the go-faster T-Roc shares the hot hatch's all-wheel drive powertrain and that extends to the turbocharged 2.0-litre four-cylinder engine.
How powerful will the VW T-Roc R be?
Word is, it'll also share the peak power output of 306bhp. In a smaller but taller bodyshell, we'd anticipate key acceleration figures similar to the Golf R's 5.1sec 0-62mph time and top speed pegged back to 155mph.
We spotted the T-Roc R prototype near VW's Nurburgring test facility, where it is undergoing high-speed performance and endurance testing.
The quad tailpipes are a giveaway that this is no normal T-Roc, but it's not yet clear if a more aggressive aero package, bumpers and spoilers will be added to final production versions.
Simpler, reconfigured day-running lights (DRLs) can also be viewed in these new spyshots above. Volkswagen has pledged to keep the GTI badge for its purist hot hatchbacks; however, it's quite happy to let go-faster SUVs wear the R moniker.
When can I buy a Volkswagen T-Roc R?
Hold your horses. VW has only just unveiled the T-Roc at the 2017 Frankfurt motor show and it doesn't hit showrooms for a few months yet.
We are expecting to see the new R derivative some time in 2018, possibly as early as the Geneva motor show in March. It's too early to talk about prices, but we'd be surprised if you'll see any change from £30,000.