Baywatch new poster: Priyanka Chopra gives a wicked challenge to go ahead and stare

India Today
20/04/2017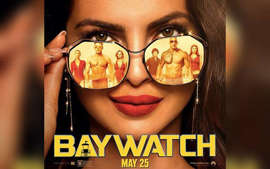 © India Today Ever since our desi girl Priyanka Chopra set her sights on global domination, fans have been waiting with bated breath for the release of her Hollywood debut, Baywatch. While they will have to wait till next month to watch her on the 70mm screen, the new poster will satisfy them for now.
Priyanka is touted to be the surprise package of Baywatch, and except for blink-and-miss appearances, she has not been seen much in the film's trailers. However, the actor is the highlight of the newest poster, which has her flashing a wicked smile, as she looks at the lifeguards through her glares. The tagline, "Go ahead and stare," applies to her fans, who will not be able to take their eyes off the gorgeous Priyanka.
Priyanka will play the antagonist, Victoria Leeds, and the actor had described her character as a "billionaire b*tch." Apart from her, the film also stars Dwayne 'The Rock' Johnson, Zac Efron and Alexandra Daddario.
Related: Here is what Priyanka had to sacrifice for her career (Video provided by Wochit Entertainment)
More from India Today

India Today