Did you know Wonder Woman aka Gal Gadot lost to Tanushree Dutta in 2004?

India Today
22/06/2017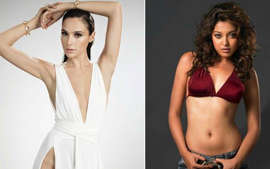 © India Today The name on everyone's lips right now is Gal Gadot, who is creating ripples globally with her brilliant portrayal of Wonder Woman in Patty Jenkins's film of the same name. Did you know Gal is a beauty pageant winner and represented Israel at the Miss Universe 2004 competition? We bet you didn't know that she fared worse than 'Aashiq Banaya Aapne' girl Tanushree Dutta.
While Tanushree was the eighth runner-up, Gal did not even make it to the Top 15. Surprised? This discovery is making Twitteratti go berserk.
#TIL In Miss Universe 2004 @GalGadot was competing against Aashiq banaya aapne actress Tanushree Dutta 😜Tanushree came in top 10 pic.twitter.com/PHJPYvUHcF

— Od (@odshek) June 8, 2017
and yet... look at where she is (i mean.. Wonder Woman.. come on).. and look at tanushree dutta.

Rewards > Awards https://t.co/G0bg2D5ejx

— Unknown handle (@unknownhandle10) June 9, 2017
It looks like the tables have turned now, as Gal is a global name, with Wonder Woman smashing records to rake in $223 million in its opening weekend, worldwide. The actor has received a thundering applause for her portrayal of the Amazon princess, while Tanushree, after a spate of flops, has disappeared from the Bollywood scene.
and yet... look at where she is (i mean.. Wonder Woman.. come on).. and look at tanushree dutta.

Rewards > Awards https://t.co/G0bg2D5ejx

— Unknown handle (@unknownhandle10) June 9, 2017
More from India Today

India Today