Champion Danny Dyer is exactly the star tonic we need

Evening Standard
08/02/2019
Editor's note: The opinions in this article are the author's, as published by our content partner, and do not represent the views of MSN or Microsoft.
The boy done good. As 2019 shifts into gear, your mate Danny Dyer is one of the few for whom life is actually looking up.
He now combines a starring - nay, iconic - role in EastEnders with appearing on the West End stage in Pinter Seven; making history accessible to the masses via BBC One's Right Royal Family; gracing numerous panel shows with his ratings-boosting presence; and, of course, that incisive Brexit analysis.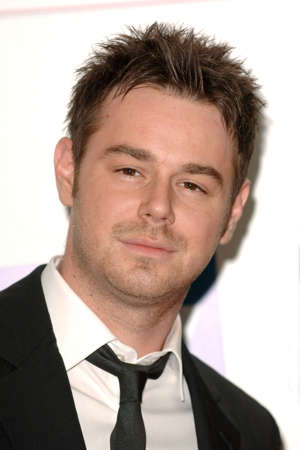 By any measure, Dyer's ascent from Canning Town tearaway to member of the extended British royal family has been meteoric. But it's not just humble beginnings and subsequent success that make his story worth telling; it's the surprising turns he's taken along the way.
Back in 2010, already about 17 years into Dyer's long showbiz career, he was more national laughing stock than national treasure.
It was his film Pimp, an unpleasant mockumentary about the Soho sex trade, and one of five dreadful Dyer releases that year, that received the most merciless critical mauling. "You wouldn't think a film could be both very boring and very offensive," I wrote in my own review at the time, "Pimp is that paradox made flesh."
It seems everyone else who saw it (about 20 unfortunate reviewers) agreed with me. The film was pulled from screens after a single screening, but not before earning the dubious distinction of a zero per cent approval rating on Rotten Tomatoes.
Worse still, Pimp was also fairly typical of Dyer's output during that period, which mostly consisted of low-rent British gangster films and post-pub documentaries. The best of these - Danny Dyer's Deadliest Men and I Believe In UFOS - might be worth tracking down on YouTube after a few shandies, but this is hardly the stuff of Bafta's Lifetime Achievement Award.
The true nadir came that same month when, in his capacity as a celebrity agony uncle for now-folded lads mag Zoo, he advised a heartbroken young male reader to "cut your ex's face, and then no one will want her." Amid the subsequent uproar from the media and women's groups, he defended himself by claiming — plausibly, to anyone who's worked in magazines — that he'd been misquoted. The damage was done, however, and Dyer came to personify "toxic masculinity" before anyone had even heard the phrase. So how did he turn it around
Social media helped. Dyer joined Twitter in July 2012 and quickly developed both a following of 1.34 million and a characteristic tweeting style.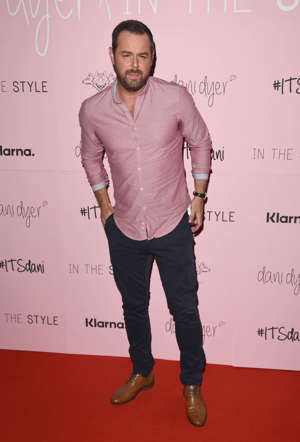 He's since shared his thoughts on topics ranging from Donald Trump ("Is it me or is this geezer completely off his strange looking nut?") and 9/11 ("Can't believe it's been nearly 11 years since them sl**s smashed into the twin towers it still freaks my nut out to this day"), to Wednesdays ("ya never gonna b Friday...ya midweek p****") and the sacred institution of marriage ("Finally my kids will no longer be b*******....me and @MasDyerJo are getting married after a 25 stretch…")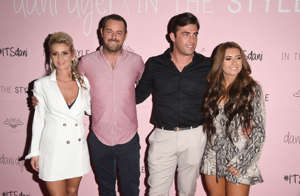 © 2018 Getty Images LONDON, ENGLAND - OCTOBER 10: Joanne Mas, Danny Dyer, Jack Fincham and Dani Dyer attend the 'Dani Dyer X In The Style' launch party on October 10, 2018 in London, United Kingdom. (Photo by Stuart C. Wilson/Getty Images) When unmediated by a journalist with a dictaphone, he revealed not only a willingness to laugh at his own hardman image, but that he'd been in on the joke all along.
The other key turnaround for Dyer has been his graduation from teen dad (he was just 18 when his eldest child, Dani Dyer, was born) to Albert Square patriarch. In the six years since he was cast as Queen Vic landlord Mick Carter in EastEnders, he has become a fixture of family TV, winning three National Television Awards and one Inside Soap Award for Best Actor.
It wasn't the long-running BBC soap, however, that finalised this transition in the public imagination, it was a single series of an ITV2 reality show. On last summer's Love Island, Dani — sweet-natured, principled and naturally funny — came across as a true credit to her family. Clearly such a fine, upstanding young woman couldn't have been raised by the same feckless misogynist once depicted in the pages of Zoo magazine.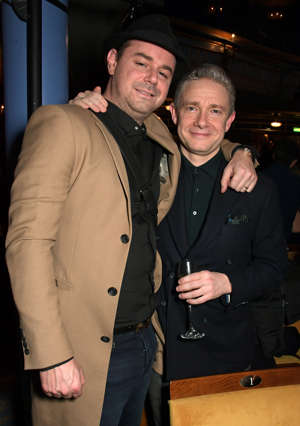 © 2019 David M. Benett LONDON, ENGLAND - FEBRUARY 06: Danny Dyer (L) and Martin Freeman attend the press night after party for 'Pinter At The Pinter - Pinter Seven: A Slight Ache & The Dumb Waiter' at the Harold Pinter Theatre on February 6, 2019 in London, England. (Photo by David M. Benett/Dave Benett/Getty Images) Then there was his instant-classic, 2016 appearance on genealogy series Who Do You Think You Are? and with it the amusing revelation that he is directly descended from Edward III, William the Conqueror and Thomas Cromwell.
At something like 110,000th in line to the throne, he may not present an immediate threat to the succession, but it says something that he was chosen to give Channel 4's Alternative Christmas Message last year and pulled it off with aplomb. Dyer has long held a place of affection in the nation's heart, now he combines it with an air of paternal authority and the effect can be downright regal.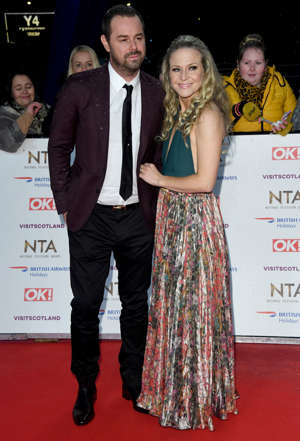 © 2019 Getty Images LONDON, ENGLAND - JANUARY 22: Danny Dyer and Kellie Bright attend the National Television Awards held at the O2 Arena on January 22, 2019 in London, England. (Photo by Stuart C. Wilson/Getty Images) Sharing opinions with the public, becoming semi-respectable; all this was also good training for his debut as a political commentator with the common touch, on one-off GMB spin-off Good Evening Britain this summer.
In a TV gathering which included the outspoken likes of Pamela Anderson, Jeremy Corbyn and Piers Morgan, it was Dyer who stole the limelight when he memorably raged against the "mad riddle" that is Brexit and the role of former prime minister David Cameron in calling the EU referendum: "Where is he? He's in Europe, in Nice with his trotters up. Where is the geezer?"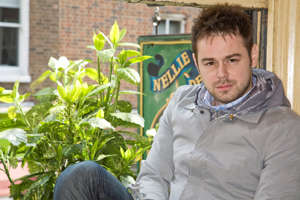 © 2012 Photoshot Portrait of Danny Dyer, shot in April 2008.; Job: 85864; Ref: MGD; (Photo by Martin Gardner/Photoshot/Getty Images) It must be said that Dyer voted Leave, but now regrets it. His sweary intervention proved so popular on Twitter it even inspired an informal new rating system for viral Brexit commentary, with five "Danny Dyers" out of a possible five indicating the most insightful and witty clips. There may well be more where that came from.
Yet it still came as a surprise to some when, at last month's National Television Awards, Dyer dedicated his gong for Serial Drama Performance to his mentor, the late Nobel Prize-winning British playwright, director and screenwriter Harold Pinter.
Pinter was "a man I loved very, very much and I miss him. He believed in me when no one else did". The fact Dyer was a protégé and friend of the playwright for many years, that he played the Waiter in Celebration at London's Almeida Theatre in 2000, and Foster in the 2001/02 revival of No Man's Land at the National, might seem incongruous, but why should it?
Maybe Dyer's impressive connections and varied credit list should instead be taken as proof of the other message he had to convey that evening: "I just want to say to all you young kids living out there in poverty, who don't think they've got a right to dream, or hope or believe - do not let where you come from define where you're going in life. You can be whoever you want to be."
Danny Dyer Attends The Pimp Premiere Afterparty At Punk, Soho Street In London. (Photo by John Phillips/UK Press via Getty Images) Was it Dyer who changed so much over the past two decades?
Or was it, rather, the general opinion of what Canning Town's finest is capable of? Indeed, as the 41-year-old enters what will surely be his most successful professional period yet, his whole career begins to look like an enjoyable rebuke to anyone who was ever foolish enough to believe in the East End "geezer" stereotype and its limitations. We are Cockneys, and we contain multitudes.
Gallery: EastEnders spoilers [Digital Spy]