Katy Perry 'blackface' shoes 'pulled from sale' after online backlash

Evening Standard
11/02/2019
A pair of shoes that are part of Katy Perry's fashion line are reportedly being pulled from sale amid accusations their design looked like "blackface."
The 'Rue Face Slip On Loafers' and 'Ora Face Block Heel Sandal' from Katy Perry Collections have two eyes, a gold nose, and red lips.
The slip on shoes come in black or beige while the sandals are available in either black or gold.
Sources told website TMZ that a "team is in the process of pulling the shoes" from sale amid ongoing criticism of the design.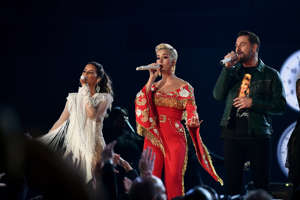 One person wrote online: "If you have to second guess whether a design is blackface/racist...it probably is."
The shoes were "never intended to be offensive" but are being pulled "in order to be respectful and sensitive," a source added.
They were being sold by Walmart and Dillard's, but they are no longer on sale online.
Ms Perry was first criticised for their design in August when she posted a lookbook image for the collection on her Instagram.
People labelled the shoes "racist" and said she should "think twice about the shoes you put up for sale."
However, many fans defended the singer, and said they were a "Mr and Mrs Potato Head ripoff."
Another added: "The only thing wrong with these shoes is that they're hideous."
The row comes just days after Gucci were forced to apologise for a black balaclava jumper which "resembled blackface."
They removed the jumper from sale after the jumper, which featured a red cut-out around the mouth, was criticised by fans.
Related: Fasion hits and misses of 2018 [Wonderwall]