Kym Marsh reveals gender of unborn grandchild as she prepares to become gran at 42

Mirror
10/12/2018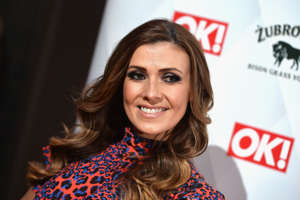 Kym Marsh has revealed she's going to have a grandson as daughter Emilie is expecting a baby boy.
The Coronation Street star is preparing to become a young grandmother at the age of 42.
Download the Microsoft News app for your Android or iPhone device and get news & live updates on the go.
Emilie, 21, is expecting a baby with her boyfriend of seven months.
Kym hosted a gender reveal party for the happy couple on Sunday with family and friends.

They let off a cannon filled with blue confetti which revealed the baby's gender.
She told OK! Magazine that her daughter's pregnancy has been an emotional experience for both of them.
She said: "I went with Emilie to her first antenatal appointment and we heard the baby's heartbeat for the first time.
"It was a really magical experience and bought a tear to both of our eyes. I'm so glad that she's wanted me with her at all her appointments, it means so much to me to be with her every step of the way.
Speaking after she first found out she was going to be a gran, Kim said: "We're over the moon. It makes me feel so emotional that my baby is having a baby of her own.
File video: Kym Marsh in The Cry trailer - BBC (Digital Spy UK)
"I've always looked forward to having grandchildren. Although I'm not relishing being called Grandma, so I've been researching alternative names."
Kym, who recently started dating Army officer Scott Ratcliffe, was only 18 when she gave birth to her first child David, 23.
The ex-Hear'Say singer, also mum to seven-year-old Polly, added: "I know what it's like to be young and pregnant – it's scary, but Emilie will be a great mum.
"I've warned her that it's going to be hard work but I've also said there are a lot of positives to being a young mum."
Emilie said Kym – Michelle Connor in Corrie – was with her when she did the pregnancy test. She added: "When I saw it was positive I started crying my eyes out I was so overwhelmed."
Gallery: Adorable photos of celebrity mums! (StarsInsider)